Polish prisoner compensated for non-vegetarian meals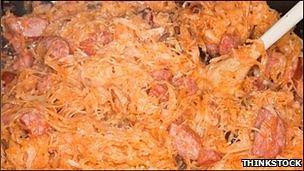 A Polish prisoner has been awarded 3,000 euros (£2,500) in compensation because he has not been provided with vegetarian meals.
Janusz Jakobski, who is serving eight years for rape, is a Buddhist and follows rules about not eating meat.
He appealed to the European Court of Human Rights after his requests for vegetarian meals were repeatedly refused.
The court ruled that his religious freedom had been violated.
The Polish government had argued that vegetarianism could not be considered an essential aspect of the practice of Jakobski's religion. The prison service said it lacked the resources and money to deal with different dietary requests.
There are numerous schools and traditions of Buddhism and while many Buddhists choose not to eat meat, it is only a few groups of the Mahayana school who require followers to be strictly vegetarian.
The 45-year-old is a Mahayana Buddhist.
Jakobski says his repeated requests for vegetarian meals have been rejected, and he says he has been unable to refuse to eat prison meals as authorities would then have considered him to be on hunger strike and they would have punished him.
The Strasbourg-based court ruled that the Polish prison service had violated Article 9 of the European Convention on Human Rights.
While taking into account that providing special meals might cost more, the court still concluded that the authorities had "failed to strike a fair balance between the interests of the prison authorities and those of Mr Jakobski."
A spokesman for the prison service told The Daily Telegraph that Jakobski had previously claimed to be an ardent Catholic and fought to have a cross in his cell.
"We are not entirely inclined to believe that he is sincere and that his demands were not related to a desire to annoy the prison service and the justice system," said spokesman Captain Artur Bojanowicz.
Related Internet Links
The BBC is not responsible for the content of external sites.