UK wildlife battling with cold weather for survival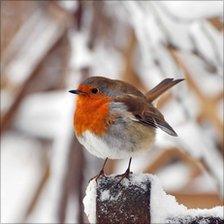 They're finding it hard to get out and about in the snow. Food stores are running low, deliveries seem intermittent.
Water supplies for washing and drinking tend to freeze and it has proved hard to stay warm.
While Britons have been struggling with the cold weather, the country's wildlife is finding survival hard.
Charities have warned bird populations could suffer and animals have died, some frozen in waterways.
"Sadly, it is dramatic," says Gemma Butlin of the RSPB. "Smaller birds like wrens lose the heat from their bodies pretty quickly, so they need to be eating all the time to survive.
"It's a pretty grim time for garden birds."
The prolonged cold spell is presenting particular problems as snow has covered food sources in a variety of ways, cutting the supply for different species.
The berries on trees, the insects and fish in frozen ponds and rivers, small mammals, or the worms and insects in the frozen ground are all inaccessible.
"Things like blackbirds, thrushes and starlings who would tap the ground can't find food," she says.
Barn owls are being found dead, as the supply of voles and mice runs out.
More positively, the charity says there is much people can do to help - by putting out inexpensive foodstuffs found at home.
It recommends grated cheese, porridge oats, fruit, cooked pasta and rice (before sauce), cooked potatoes, and unsalted bacon, cooked or raw. Festive things like pastry and cake crumbs are also welcome.
Little and often, nothing rotten is the rule as "they're no more dustbins than we are". Fresh water and nesting boxes are also needed.
Ready-made fat balls are "brilliant" for their calorie content, but the mesh must be removed. Fat from the Christmas dinner is not suitable, however. Salt is bad for birds, and the sticky fat damages their feathers.
The extreme conditions also mean it is a good time for twitchers hoping to spot rare breeds visiting the UK.
Waxwings, bitterns, redwings, fieldfares, woodcocks and yellow wagtails have all been spotted in gardens.
Cold conditions mean a good sleep for any hibernating animals, but it is predictably tough for those still awake - be they wild, pet or livestock.
All sizes of wild animal are at risk, from the badgers, hares, stoats and foxes who would normally graze, forage or hunt, down to the insects active in winter - the winter-gnats and minotaur beetles who cannot feed in deep snow, says The Wildlife Trusts.
It recommends gardening to help wildlife - even the hollow stems in herbaceous plants can provide snug hibernation for ladybirds and other insects.
The RSPCA is busy and has already been working at a County Durham hotel and country park where deer have drowned after falling into a frozen lake.
The charity advises leaving food out for wild animals like badgers, and shelter for hedgehogs.
Pets also need help - extra blankets and shelter for horses and ponies. Rabbits and guinea pigs may need moving inside to a shed or garage. Cats should not be shut out for long periods.
Dogs with a sparse coat may need an extra manmade one, says the charity, and two or three short walks may be better than a longer one.
Farmers, meanwhile, are facing an across-the-board struggle to care for livestock.
"These are very difficult conditions," says John Mercer from the National Farmers Union. "We've got huge problems getting access to stock that are out, getting feed to them, getting access to water as well. Getting snow off buildings that might collapse."
Farmers are out with dogs on foot as quad bikes have been defeated by snow. On the roads, they are clearing routes with tractors.
"Feed deliveries to farms are a problem, not just for livestock, but for poultry where high feed levels are needed," he says.
The NFU has been working with the Department for Transport to try to highlight key problem areas, and dairies where farmers cannot get milk out.
While sheep are "extremely hardy animals" they are being brought off the hills, out of the way of drifts to shelter.
The severe cold, with temperatures down to -19C (-2.2F), means stock losses are likely, but, in all, he says: "More than anything, farmers are hugely resilient, they get on and do it.
"They do everything they can, to get everything sorted."
Related Internet Links
The BBC is not responsible for the content of external sites.