Ex-spy Anna Chapman gets lion cub on Russian TV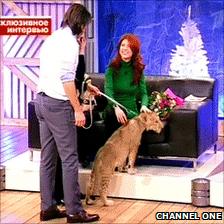 Former Russian spy Anna Chapman has been presented with a lion cub on Russian state-run TV.
Ms Chapman, who was deported from the US earlier this year, was the main guest of the "Let Them Talk" show.
The 28-year-old would not be drawn on her intelligence career but she said her favourite Bond was Sean Connery.
She also said her dream was to have a lion cub for a while, before it became dangerous, at which point one was brought into the studio.
It is not known if Ms Chapman took the cub home that evening or where the former spy would keep the animal, but she said she would call him Nano.
The Channel One show resembles the American and British TV programmes "This Is Your Life", and it featured Ms Chapman's relatives, childhood friends and teachers sharing their memories of the redhead.
One of her school friends recalled how she once vowed to marry a British man and move to the United Kingdom - a wish that came true when she married Briton Alex Chapman in 2002.
Ms Chapman, born Anna Kushchenko, is the best-known of the 10 Russian agents who were swapped in July for four US citizens who had been imprisoned in Russia.
This was the first chance curious Russians have had to hear her story since her return, although she has made a few public appearances and done a racy magazine photo-shoot.
"I would never acknowledge that I was an intelligence agent," she told the programme, but she did say she considered the failure of her mission a chance for new opportunities.
Ms Chapman has been given a top role in a youth organisation from Russia's governing party and has become the new celebrity face of a Moscow bank that works with aerospace industries.
She told viewers she starts every day with some exercise and loves shooting.
"I'm a very good shot," she said. "I have a passion for it, and I love going to shooting ranges."
The redhead also said she admired Angelina Jolie, who played a suspected Russian sleeper agent in the movie Salt, and that she hopes to have her own TV show next year.
The show ended with the audience singing a patriotic song from a Soviet-era spy movie, which Russian Prime Minister Vladimir Putin is reported to have sung when he met the 10 agents after their deportation.
Related Internet Links
The BBC is not responsible for the content of external sites.