Opossum Heidi gets Oscars TV role, predicting winners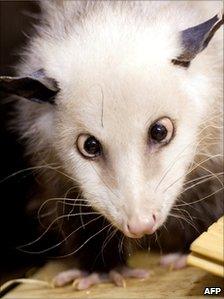 A cross-eyed, overweight opossum has won an unlikely starring role in coverage of this year's Oscars.
Heidi is an opossum who became a German media sensation and now has a global following, with 300,000 Facebook fans.
Officials at Leipzig Zoo, where Heidi lives, say she will appear on the "Jimmy Kimmel Show" on the US network ABC on Oscars night.
Details of her contract are confidential but it seems she will be predicting the award winners.
Producers of the show may be hoping she can emulate the success of another German celebrity creature, Paul the Octopus.
He won global fame during last year's football World Cup, correctly predicting the outcome of all seven German games plus the Spain-Netherlands final.
Heidi will not be going to Hollywood for the Academy Awards - her predictions will be filmed in Germany and used as part of ABC's Oscars coverage on 27 February.
But she is, nevertheless, on a diet - not for the usual celebrity reasons but because zoo-keepers feel it would be good for her health and might even improve her eye condition.
It's believed that her crossed eyes could be the result of a poor diet when she was young - fat deposits may have developed behind her eyes.
Heidi was found as an orphan in North Carolina, with her sister Naira, and was brought up in a wild animal sanctuary.
The opossum sisters came to Germany in May 2010 and have been in quarantine since, so they have not been on display at the zoo.
It was a photo in the German newspaper Bild in December which made her a star in Germany, while Youtube and Facebook helped her to global fame.
On hearing the news of her Oscars role, one Facebook fan posted on Heidi's wall: "Please make sure those Hollywood producers treat you well."
The zoo's director Joerg Junhold says Heidi's appearance fee will be donated to an animal protection charity.
Related Internet Links
The BBC is not responsible for the content of external sites.