Welsh university fees set £2,000 lower than England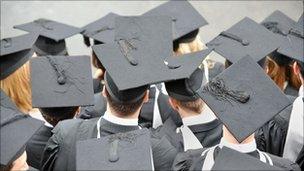 Basic university tuition fees will be £2,000 lower in Wales than in England, it has been announced.
Education Minister Leighton Andrews has opted for a basic fee level of £4,000 in Wales, rather than the £6,000 which will apply over the border.
He said his decision was based on the contribution he believed higher education should make to social justice and feedback from the sector.
From next year the upper fee limit will be £9,000, as in England.
Universities must show a commitment to widening access and other strategic objectives about promoting higher education before being allowed to charge more than the basic amount.
Mr Andrews said he wanted new fee regulations in place before the Welsh assembly is dissolved for May's election, so that universities have time to prepare.
They will come into force for students starting new courses from September 2012.
The assembly government will meet the cost of extra fees for students from Wales attending any UK university.
Students from Wales will be subsidised by the assembly government wherever they study in the UK.
Last week details of how the grant will be funded were released to BBC Wales under the Freedom of Information Act.
The figures showed £51.7m will go to English or other UK universities outside Wales who have accepted students from Wales.
The total spending on grants for Welsh students over the next nine years will be £1.5bn, of which £427m will go to English universities.
In a written statement to AMs, Mr Andrews said: "Central to the Welsh Assembly Government's policy is the principle that access to higher education should be on the basis of the individual's potential to benefit, and not on the basis of what they can afford to pay.
"The decision to set the basic fee level at £4,000 reflects the importance the Welsh Assembly Government places on the contribution which higher education makes to social justice."
In a statement, Higher Education Wales, which represents universities, said it was working with the assembly government to "achieve an equivalent level of overall resources" compared to universities in the rest of the UK.
It said: "We are confident that Wales's universities - with their good track record of widening access compared with other parts of the UK - will be able to demonstrate the value of their work on improving access and enhancing learning for students."
Welsh Conservative spokesman Paul Davies said: "Full of his own self-praise when he announced this last year, serious questions are now being raised about the education minister's plans.
"We already know our higher education sector will be losing out under this plan, with English universities subsidised to the tune of £50m by WAG [the Welsh Assembly Government] every year.
"Today's change raises more serious concerns around funding for Welsh universities."
Welsh Liberal Democrat spokeswoman Jenny Randerson said: "I expect Welsh tuition fees to be similar to England in general.
"Indeed there will be a real problem of funding if the students who go to England to study have to pay significantly more than we earn from incoming English students studying in Wales.
"The minister's sums are based on the two amounts being roughly equal and his policy unravels if that does not happen."
Related Internet Links
The BBC is not responsible for the content of external sites.