BMW looks to broaden Mini appeal with rallying return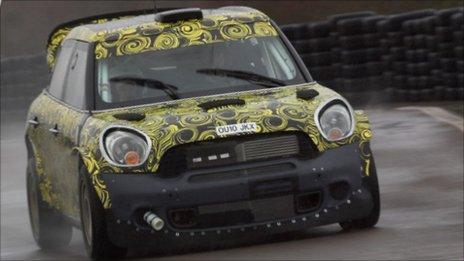 It is a cold, wet and distinctly wintry day at a remote disused airfield in the English West Midlands. It is bleak, uncomfortable and in no way glamorous.
Abruptly, the raucous bark of a racing engine penetrates the damp mist, and a garish yellow and black car flies past, careering sideways in a ball of spray.
This, then, is where the German manufacturer BMW has been preparing its latest foray into the exotic world of international motorsport.
The car is a BMW-made Mini, the German firm's tribute to the original quirky British car, and it is preparing for its debut next year in the World Rally Championship.
On Monday, after months of this kind of arduous preparation away from the public gaze, the team will be officially launched at Mini's factory in Cowley, near Oxford.
It will then hit the stages for real when it takes part in the Rally Italia, which takes place in Sardinia in early May.
Rallying is a brutal form of motorsport, which takes place on rural roads, mountain trails, desert trails and tracks through forests.
It is a world away from the rather sanitised, celebrity-fuelled glitz of Grand Prix racing, but it also feels more down to earth.
"Rallying is about real motor cars, real environments, real roads and real people", says David Richards, the chairman and chief executive of Prodrive, the specialist engineering group that is running the rally team.
"I honestly think that the public today see through a lot of the glitz and glamour of some of the other motorsport activities that they watch and realise it is not really relevant to them.
"This is about cars that they can buy in the showroom, that they can drive themselves."
That, in a nutshell, is the whole point. For manufacturers, motorsport is there to sell cars and BMW wants to sell more Minis.
Rallying may not have the vast global TV audience of Formula One, but it does appeal to millions of enthusiasts in key markets, notably in Europe and South America.
"The first generation of BMW Mini got a huge amount of interest when it was launched in 2001, and it's had huge sales growth," says Jay Nagley of automotive consultants Red Spy.
"But it's a retro design and you can't just keep on reissuing it. People will get bored of it eventually. Mini has to do something different in order to stay relevant."
In the 1960s, the original Mini won the prestigious Monte Carlo rally three times.
It was a stunning achievement that shocked the motor industry, and helped to turn this rather funny looking little car into an international bestseller.
Now BMW is drawing on that heritage, hoping that its latest foray into the rallying world will have a similar impact, rejuvenating its British marque and attracting new customers.
At the moment, the Mini sells best in cities, and it is most popular among women buyers.
But the TV audience for rallying is predominantly male, and BMW hopes that competition can broaden the appeal of the brand.
"The car we're using, the Countryman, is a bit bigger than the standard Mini," says Mr Richards, who is also chairman of carmaker Aston Martin.
"It's four wheel drive and it's turbo charged. We're hoping it will appeal to a different audience. More rural, perhaps more masculine, and families as well."
Like Mini itself, Prodrive has been here before. In the 1990s it ran a highly successful rally campaign for the Japanese manufacturer Subaru.
As well as turning champion drivers Colin McRae and Carlos Sainz into household names, it also fundamentally changed the image of Subaru itself, giving models such as the Legacy and Impreza a hefty dose of sporting street-cred.
Mini is not alone in hoping it can repeat that feat.
The Czech manufacturer Skoda, for example, is also investing heavily in rallying.
The VW-owned marque has spent decades trying to shed the stigma that became attached to its brand during Soviet times.
In the 1980s Skoda was not so much a joke as a whole category of humour to itself, based on its fabled unreliability and lack of performance.
Now it is trying to leave the jeers behind. It has already won the Intercontinental Rally Championship, a lesser rival to the World Championship, and has ambitious plans for the future.
In fact, there is a long list of manufacturers that have found that motorsport can breathe new life into a tired brand, or even change its image altogether.
The costs can be very high, yet in order to sell cars you need to be successful or your brand can actually be damaged.
For example, sportscar maker Jaguar arguably gained few sales from its struggles in Formula One during the last decade, despite massive investment from its then parent, Ford.
But Prodrive's David Richards insists that for BMW Mini, the risk is a small one.
"The World has changed since the big manufacturers used to throw lots of money at motorsport activities," he says.
"We have a very methodical, very cost effective approach. We have a long term contract with Mini, and a very clear objective: to win the world title."
For all his confidence, it remains a fact that the history of motorsport is littered with big names that went racing with high hopes, only to see them dashed in the white heat of competition.
And competition there certainly will be.
Mini will face fierce and well-funded opposition from Citroen and Ford, which between them have dominated rallying for much of the past decade.
It is widely predicted that Volkswagen will soon join them too.
Watching the car fly round a wet and windy test track is certainly spectacular, and not a little scary.
The question now is whether it will prove quick enough when the talking stops - and the racing starts.
Related Internet Links
The BBC is not responsible for the content of external sites.