Toyota to restart Japanese output at reduced capacity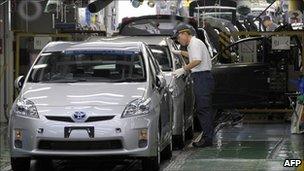 Toyota will restart production at all of its Japanese factories between 18 and 27 April, the company has said.
However, the world's biggest car manufacturer said that production at its domestic factories will resume at a reduced capacity.
Production at all of Toyota's 18 factories had been suspended in the aftermath of the earthquake and tsunami that hit Japan on 11 March.
Toyota shares were up 0.9% after the news.
The company said that factories will be shut down again between 27 April and 9 May for the Japanese 'Golden week' holiday.
Japanese car manufacturers have been facing a shortage of parts.
That has resulted in manufacturers halting production not only in domestic factories but also reducing their output in other countries.
Toyota has already warned that its North American production may be curbed if the parts shortfall continues.
Earlier this week, Honda motors announced that was halving production at its factory in Swindon in the south of England.
Nissan Motors also said that it would be suspending its UK production for three days at the end of the month due to a shortfall of parts from Japan.
However a company's spokeswoman said Toyota had started to get supplies of most of the affected parts and it will use current inventories to make up for any shortfall for now.
Toyota said it will monitor the parts supply situation before deciding on production plans from 10 May.