Qantas faces strike action threat over wage dispute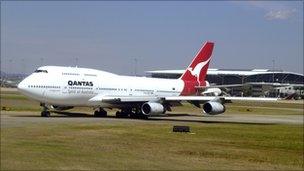 Accused by trade unions of "slashing and burning" the rights of aviation workers, Australia's national airline, Qantas, is facing a potentially damaging confrontation with pilots, engineers and baggage handlers.
At the heart of the dispute are concerns about pay and job security along with cost cutting and the subcontracting of work overseas.
Transport Workers Union national secretary Tony Sheldon told the BBC in Sydney a "major confrontation with Qantas" was looming.
"It comes down to fundamental greed that enough is never enough," Mr Sheldon said.
"To pay themselves 58% wage increases - the nine top executives - and then to spit in the face of aviation workers and say to passengers that the quality of service will decline as the result of outsourcing is just short-term greed from corporate adventurers."
For its part, Qantas says union wage demands are "unrealistic" and any strike action would be unwarranted.
It hopes negotiations will be enough to soothe these festering industrial tensions at a time when business has been dented by high fuel prices as well as natural disasters in Queensland, Christchurch in New Zealand and Japan.
But if agreement cannot be reached then the Flying Kangaroo's Irish-born chief executive Alan Joyce has said managers would step in to try to minimise disruption.
"A strike means everybody loses," he told ABC television.
"Now Qantas, while it's been very financially strong, can't take things for granted and talk about industrial action will make things worse - it doesn't make them better," Mr Joyce added.
However, talks between management and pilots recently broke down, and there are signs the mood in the union camp is becoming increasingly restive.
Australian and International Pilots Association president Barry Jackson told the BBC news website deepening hostilities seemed inevitable.
"Industrial action has not been ruled out and is highly likely if the company continues down this path," he said.
"Tragedy looms for Qantas as hardline management trashes its brand, seeks to smash its pilots," Mr Jackson said in a previous statement.
Engineers, baggage handlers and aircraft refuellers are also considering work stoppages.
Professor Greg Bamber, from Monash University in Melbourne, says that while Australia's national carrier is far from extinction, it must adapt to competition from low-cost rivals, Virgin Blue, Tiger and Air Asia plus operators from the Middle East.
Professor Bamber, the co-author of Up In The Air, which examines the future of global aviation, said: "Qantas and British Airways have traditionally been run on hierarchical lines like military organisations but the new breed of new entrant airlines, like Southwest [based in Dallas], have tried to win a commitment from the workforce rather than them being subject to command and control.
"I would hope that the parties can take a leaf out of the book of Southwest, which is skilled at working in a form of partnership with its workforce and the unions.
"It is a difficult industry because airlines face turbulent times.
"There are wars taking place, tsunamis and acts of terrorism, which are unpredictable but from reviewing airlines around the world we find the most successful ones are those that have worked through the issues in partnership with the workforce rather than trying to confront them," he added.
But at Qantas, the time for talking appears to be running out and both sides are steeling themselves for what could be an almighty industrial skirmish.