Hong Kong launches world's first yuan IPO outside China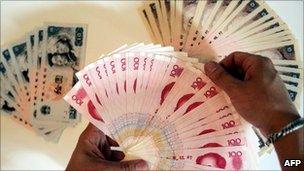 The world's first Chinese-currency shares to trade on a stock exchange outside mainland China will be listed in Hong Kong on April 29.
Hui Xian, a real estate investment trust, is selling yuan-denominated shares to investors in an initial public offering (IPO) at the end of the month.
The offer comes at a time when demand for investment products in the Chinese currency has been growing.
Hui Xian is controlled by Hong Kong tycoon Li Ka-shing.
The investment trust's main asset is Oriental Plaza, a massive retail, office and residential complex in Beijing.
"It gives investors an opportunity to tap China's economic growth and share in the success of this premier commercial property in the capital city," said H L Kam, chairman of Hui Xian Asset Management Limited.
The company plans to sell shares in about 40% of the trust to raise up to 11bn yuan ($2bn; £1.2bn).
Hong Kong is positioning itself as an offshore centre for trade in the yuan as China takes steps to make its currency more widely available on international markets.
Yuan bank deposits in Hong Kong, which uses the Hong Kong dollar, have surged since they were first permitted in 2004, as people have bet on an appreciation in the Chinese currency.
The deposits totalled 370bn yuan at the end of January.
But there have been relatively few ways to invest that money as there are still limits on the amount of yuan, also known as renminbi, that can be remitted to China.
Since last year, companies outside China have been able to issue debt in yuan, allowing investors to buy what are popularly known as "dim-sum bonds".
However, these have so far offered a relatively low return to investors.