China leading electric vehicle race, study says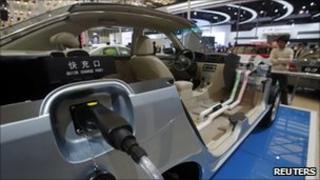 China is leading the race to introduce more electric vehicles according to a new study financed by the World Bank.
According to the report prepared by management consultants PRTM, China is emerging as an important test-bed for innovation in the sector.
Global economies have been pushing for use of electric vehicle technology in an attempt to reduce pollution and dependence on non-renewable energy.
China is the world's biggest polluter and the largest car market.
It launched its Ten Cities, Thousand Vehicles Program in 2009 to stimulate electric vehicle development in the country.
Started initially in ten cities, the programme has now spread to 25 cities on the mainland.
Analysts say that China's policies, coupled with the investments it has made in the sector, are transforming it into a global leader in the field.
"From policy to technology to new business models, China is innovating on all the building blocks needed to successfully deploy electric vehicles," said Ede Ijjasz, sustainable development manager for the World Bank in China and Mongolia.
"China's plan for $15bn (£9bn) in government investment in vehicle electrification is remarkable and second to none," he added.
Oliver Hazimeh, of PRTM, said: "[China] are ahead of the curve in terms of political alignment, intent and motivation."
"They want to establish themselves as the leaders in the segment," he added.
Road bumps
While the initial policies have been successful in making China one of the leading players in the segment there are many stumbling blocks ahead.
According to the report China has so far focused on electrification of fleet vehicles likes buses and taxis. It says that for the next level of growth to happen, China will need to develop its infrastructure.
"As private cars will be fully involved eventually, integrated battery charging solutions need to be developed," the report says.
"It is essential to build a commercially viable business model which bears the cost of charging infrastructure, as the industry cannot indefinitely rely on government funding," it added.
The report also said that in order for China to become a global player in manufacture of electric vehicles it will have ensure that issues like battery charging, safety and disposal are in line with international policies.
'Sustainable economic footing'
Like many other countries, China currently offers subsidies and financial benefits to consumers who buy electric vehicles.
The report said the government will face a daunting task to convince consumers to buy electric vehicles once these have ended.
"The up-front vehicle cost will still be significantly higher than a conventional vehicle with a significantly longer pay back period than most consumers or commercial fleet owners are willing to accept," it said.
Analysts say that while subsidies have been a good way to lure initial customers and kick start the segment, the government will have to think of an alternative in the long run.
"Attracting consumers has to be on a sustainable economic footing," said Mr Hazimeh.
"The government cannot pay subsidies forever," he added.