Toyota production cuts to last until end of the year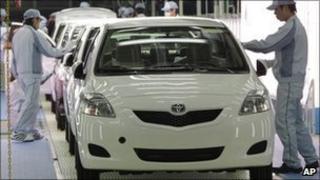 Toyota Motors production cuts will last at least until the end of the year, as the carmaker continues to face a shortfall in the supply of parts.
Production is likely to return to normal levels only by November or December, the company said.
Toyota and other auto manufacturers have been facing a shortage of parts due to the damage caused by last month's earthquake and tsunami.
Toyota has curbed production at its factories in Japan and overseas.
The world's biggest carmaker said that production at its Japanese factories was likely to begin the recovery process by July, while its global operations will start to pick up speed by August.
However a complete recovery in its production at its Japanese and global plants will happen only by the end of the year, the company said.
'Square one'
Toyota announced suspension of production at its factories in Japan in the aftermath of the earthquake and tsunami, which occurred on 11 March.
As the extent of the damage in Japan became clear, the company announced curbs to production at its factories in North America and Europe as well.
Earlier this week, it further extended the curbs in North America until 3 June and also announced that its factories in China would operate at 30-50% of their capacity until that date.
While it has restarted production at its Japanese plants, a shortfall in the supply of parts coupled with a shortage of electricity means that the units have not been running at full capacity.
The company's president Akio Toyoda said the company had faced many hurdles in trying to get back on track.
"With this many aftershocks, including one last night, we've seen some of the recovery work thrown back to square one many, many times," Mr Toyoda said.
"In that sense it's difficult to say what the impact on production volumes or earnings will be," he added.