China, Japan, South Korea seek trade pact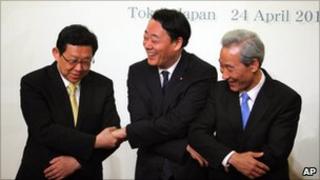 The trade ministers of China, Japan and South Korea have agreed to step up efforts towards forming a trilateral free trade agreement.
The ministers said that free flow of trade and investment between their countries was key to sustaining growth.
Asian economies have been looking to increase trade among themselves.
Demand from key markets like the US and Europe has fallen as countries on both sides of the Atlantic try to recover from the financial crisis.
The trade ministers met in Tokyo.
The three countries have already set up a Joint Study Committee (JSC) involving government officials, businesses and academic participants to look into the feasibility of a trilateral free trade agreement.
Japan recovery
China and South Korea are among Japan's largest trading partners and a speedy recovery in Japan's economy is vital to their growth.
A decline in demand from Japan, in addition to a shortage of some manufactured products, has had a big effect on their economies.
The disruption caused to Japan's supply chain by last month's earthquake and tsunami has seen many Japanese firms curb production, both at domestic plants and factories abroad, because of disruption to supplies of parts.
Toyota has already announced that its factories in China will function at 30-50% of capacity until 3 June because of a shortage of parts.
While the trade ministers from China and South Korea urged their Japanese counterpart to restore the supply chain as soon as possible, they stressed that increased trade between the three countries will play a vital role in Japan's recovery process.