Toyota's Japanese output down 63% due to parts shortage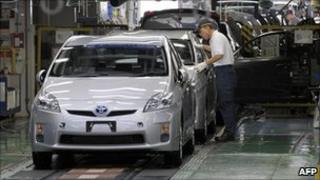 Toyota Motors has said that its Japanese production fell by 63% in March compared with the same month last year, as its production cuts continued.
The company has been facing shortages in supplies of parts as production has been disrupted because of last month's earthquake and tsunami.
While it has restarted production in Japan, its factories have been working at a reduced output.
The firm has said output would return to normal only by the end of 2011.
The world's biggest car manufacturer also announced more cuts in production at its factories in Asia.
The automaker said plants in eight Asian countries, including Thailand and India, will operate at 50% capacity from 25 April to 4 June.
It also said that factories in these countries will operate for just three days a week during the period.
The company had already announced that its factories in China will operate at 30-50% of capacity until 3 June. Toyota's UK plant will work the equivalent of three half days a week in May.
Meanwhile, another Japanese automaker, Nissan Motors also announced that output at its Japanese plants had slumped by 52% in March compared with last year.
Uncertain times
Credit ratings agency Standard and Poor's (S&P) underlined the problems facing Japan's car industry when it revised its outlook for six major firms, including Toyota and Honda, from stable to negative.
It said on Monday that the disruption to the supply chain across the country was posing "a greater challenge" for the industry that it had initially anticipated.
S&P warned that the problems could erode Japanese companies' market shares and competitiveness.
Some analysts have suggested Toyota could lose its position as the world's biggest carmaker to General Motors.
While the recovery process in Japan has begun, Toyota said its cuts could be extended.
"So far we have announced cuts until 4 June," Paul Nolasco of Toyota told the BBC.
"However, given the current situation, it is highly likely that these cuts may be extended into the summer," he added.
S&P predicts that the shortage of parts will be resolved by July.
But it said power shortages in Japan, which are expected to continue during the summer, would prevent production returning to normal until at least October.