Console wars: Nintendo gears up for gaming's future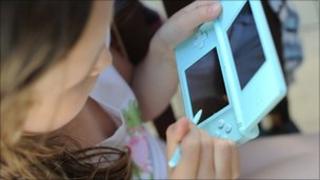 The development of video games from the rudimentary PONG tennis on screen game in the 1970's to today's multi-dimensional, hands-free virtual experience is a path of history crowded with many failures.
The "40-something" industry saw many firms make critical mistakes on the technical direction and demand of the consumer market, or the substantial financial resources needed to be - and remain - a player.
Some companies, undoubtedly, just made forgettable games or consoles, paying the ultimate price as the quarters, 100 yen coins and billions of consumer dollars landed elsewhere.
However, Nintendo, a Japanese company founded in the 19th Century, usually made good bets, while regularly producing compelling games and consoles, as the last decade's DS and Wii sales clearly attest.
Console wars
Is Nintendo still on the right path?
Sales of some 440,000 3DS handheld consoles in its first week in the US, and a windfall in its earlier Japan debut, would be hard to argue against.
But at the same time, consumers are spending less on overall gaming purchases, as many turn to free - or next-to-free - games offered on smartphones or other delivery platforms.
Nintendo, with a $250 (£152) 3DS mobile console and $30-$40 video games, is hoping consumers continue to find its "glasses-free" entertainment worth the difference.
But it is exposed if the commoditisation of the industry becomes more profound, or commitment to Mario, Zelda, Pokemon, virtual pets, brain training and personal fitness wanes.
Its main rivals in the "console wars" of the last 15 years, Sony and Microsoft, have already modified or hedged their business approaches to some degree.
Sony is now amenable to licencing and selling games for use on other selected delivery platforms, while the US giant, after haemorrhaging billions of dollars over the decade finally found a way to the black with it's "Live" service, the immensely popular "Halo" franchise, and the virtual "Kinect" system.
Next move
Nintendo's once mighty Wii is nearing the end of its product cycle and is being overtaken in sales by its rivals' hardware.
The Kyoto-based firm is hoping it can trump its predecessor and move back in front with its "Wii 2", due to be unveiled later this year.
The former card-maker will show its hand at the industry E3 summit in June, introducing a high-definition, memory-added must-have. Nintendo is banking on it making migration from the Wii - and potentially its rivals - a no-brainer for consumers.
Based on its back catalogue, this Wii is likely to sell in a price range low enough to entice, but high enough to be profitable from day one.
Nonetheless, the console wars, while still in existence, are expected to be downgraded to skirmishes as the manufacturers are more cognisant of the cheap game/ubiquitous platform trend.
Now devoted e-retailers, the big three may become less obsessed with winning across-the-board, or just owning the living room, and instead focus on further expansion of the gaming population, a feat for which Nintendo can rightly take credit.
'Affordable fun'
And what will consumers want in the near future?
In the words of Nintendo's legendary designing guru Gunpei Yokoi and "Father of Mario" Shigeru Miyamoto, it will be "affordable fun" - games and consoles that are cool and cutting-edge while often updates on franchise characters or themes; new technology that will not bankrupt as it offers increasingly mobile, inter-connected and virtually active recreation; and, moreover, a total experience worth doing again.
In short, the future of gaming will be driven by what players will pay for - a multi-billion dollar question vexing top minds on both sides of the Pacific and across the globe since the industry's inception.
If I was to bet on one possibility, it would be an even more untethered game experience, which would deliver entertainment anywhere without concern for monitor screen specs, battery duration or memory capacity, offer dreams and reality interchangeably, as well as require fewer, if any, buttons, while allowing more intuitive response.
It would be more like a human brain, but without the baggage of homework deadlines, bus schedules, or rent payments; in the long-chanted Nintendo mantra, it would be fun.
The opinions expressed are those of the author and are not held by the BBC unless specifically stated. The material is for general information only and does not constitute investment, tax, legal or other form of advice. You should not rely on this information to make (or refrain from making) any decisions. Links to external sites are for information only and do not constitute endorsement.