S Korea inflation eases in April as food prices fall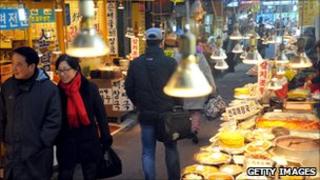 South Korean inflation has risen more slowly than expected in April, due to lower food prices and cheaper imports.
Consumer prices grew by 4.2% in April from the same month a year earlier, the statistical office said.
That is less than the 4.4% forecast, and down from a 29-month high of 4.7% in March.
Despite the dip last month, analysts believe inflation is unlikely to fall sharply due to high fuel costs and expect an increase in interest rates.
"April inflation was actually lower than expected thanks to declining agriculture and fishery prices," said Sun Yoo, an economist at Woori Investment & Securities.
"However, prices of oil products are still bullish, which has convinced us to maintain our high inflation forecast through the end of the first half."
Some analysts now expect the central bank to increase the country's benchmark interest rate to 3.25% from 3% later this month in attempt to curb rising prices.
They say that the Bank of Korea and government may tolerate a stronger currency, which could hurt exporters and slow economic growth, in order to help bring down inflation.
The Bank of Korea has an inflation target of between 2% and 4%, and has raised interest rates four times since July 2010.
Inflation has been identified as one of the biggest threats to economic prosperity in Asia, with organisations such as the World Bank warning that it could lead to social problems.