Is Canada hurt by saying no to foreign bids.......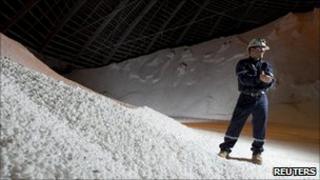 They certainly organise capitalism differently in Canada from the UK.
Twice in the past nine months, the Canadian establishment has rallied round to prevent what it perceived as an unwanted takeover of a strategically important interest - which is the sort of thing we haven't seen in the UK since... well I can't remember when.
Last autumn, the Canadian government told BHP Billiton, the Australian-Anglo mining giant, to get its paws off PotashCorp of Saskatchewan, which BHP wanted to buy for £25bn.
And now a bunch of Canadian banks and pension funds have joined together to make a "Canadian" offer to acquire around 60% of TMX Group, operator of the Toronto and Montreal stock exchanges, to see off the London Stock Exchange's £1.8bn offer for TMX.
The Canuck challenge to what it regards as the LSE's imperial ambitions may not succeed. But it is fascinating that more-or-less the entire Canadian financial establishment - including Toronto-Dominion, CIBC, Bank of Nova Scotia, Ontario Teachers' Pension Fund and Canada Pension Plan Investment Board, among others - has grouped together to keep TMX Canadian.
It is almost inconceivable that any British asset would be perceived by the likes of Barclays, RBS, Schroders, L&G, Aviva and Hermes to be of such importance to the UK that they would drop their rivalries and organise themselves to keep said asset owned and managed here.
And for years it has been totally inconceivable that any British government would tell a bidder for a UK company to take a hike because it didn't like the idea that said company might become absorbed in a giant Spanish, or US, or Indian group.
The British way is to sell to the higher bidder.
I don't make any judgement on whose approach to these things is superior. All I would point out is that Canada's more nationalistic way has not conspicuously impoverished it - or at least not yet.
Canada - whose economy is about two-thirds the size of the UK's - came through the 2008-9 financial crisis in much better shape than the UK's. And its income per head is more-or-less the same as ours.
Here's the punchline which may make you laugh or cry, depending on how you view these things.
The view among the global financial elite is that if the LSE is frustrated in its attempt to merge with TMX, predator will become prey: the LSE itself will be gobbled up by some or other overseas rival.
Which - again depending on where you sit on the spectrum of enthusiasm for liberal markets - will either reinforce the global competitiveness of the UK economy, by showing that we are the most welcoming home for mobile investment capital, or will erode our ability to determine our economic future.