Japan's Ricoh to cut 10,000 jobs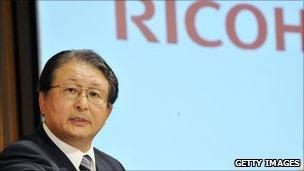 Japan office equipment maker Ricoh has said it plans to cut its global workforce by about 10,000 people, in order to reduce costs.
The company currently has about 110,000 employees around the world.
Shares in Ricoh surged more than 7% on the news.
The company, which makes copiers and cameras, was hit by the global financial crisis and is struggling to recover.
"We have become a big company and need to re-engineer our corporate structure throughout to become more muscular," said Shiro Kondo, president and chief executive.
"We have done very little pruning of unprofitable businesses, and we need to pull out of some."
Ricoh, which is based in Tokyo, expects the job cuts will cost around 60bn yen ($733m; £449m) over two years.
But the measures are eventually expected to boost operating profit by 140bn yen in three years.
The company has been hurt by a stronger yen.
The earthquake and tsunami that hit Japan on 11 March damaged some of Ricoh's facilities.
Japanese companies are finding it hard to compete against lower-priced rivals from South Korea and China.
In April, Panasonic, Japan's top consumer electronics maker, announced it was cutting 17,000 jobs around the world, also in an effort to reduce costs.
Panasonic expects to have a workforce of 350,000 people after wide-ranging reforms ending in March 2013.
It said operations at factories hit by the recent Japanese earthquake were recovering steadily, but disruptions in its supply chain were still affecting output.
Related Internet Links
The BBC is not responsible for the content of external sites.