Japan's factory production shows first sign of recovery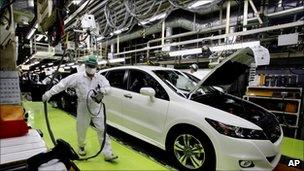 Japan's industrial output continues to be battered by the after effects of the earthquake and tsunami.
However, the latest government figures indicate that manufacturing is showing its first signs of recovery.
Factory output rose by 1% in April from the previous month as companies worked towards dealing with problems in supply chain disruption.
However output was 14% lower than in April last year.
Analysts say the latest figures indicate that things are improving for the manufacturers.
"From May a V-shaped recovery may start and it may keep rising through July and August," said Kyohei Morita of Barclays Capital.
Yoshimasa Maruyama of Itochu Economic Research Institute added that given the speed of recovery, Japanese industrial output could return to normal levels faster than expected.
"If we continue at this pace I think we will return to pre-quake production levels by about August or September," he said.
One of the hardest hit sectors has been Japanese car manufacturing.
Carmakers usually do not stockpile a large inventory of parts, so when the earthquake and tsunami damaged supply chains, carmakers in Japan had to suspend production.
Earlier this week Toyota Motors said production at its Japanese factories was down by 74.5% in April compared to last year.
Honda reported a decline of 81%, while Nissan said its domestic factories produced 48.7% fewer cars in April.
Analysts said a rebound in car manufacturing is key for Japan's factory output to get back to pre-quake levels.
"The forecasts are for big rises (in industrial output) in May and June," Mr Maruyama said.
"The biggest factor here is the auto industry. It's factoring in a greatly improved outlook for car production," he added.
The sentiment among Japan's manufacturers is upbeat.
According to a survey conducted by the Ministry of Economy, Trade and Industry, manufacturers expect production to grow by 8% in May and 7.7% in June.
Despite their optimism, Japan's manufacturers face some potential pitfalls.
"The risk will be power supply. If there are constraints in power supply in wider areas of the nation, companies' production may not proceed as planned," said Yoshiki Shinke of Daiichi Life Research Institute.
There are concerns too that sluggish domestic demand may hurt Japanese manufacturers.
According to the latest data, household spending fell 3% percent in April from a year earlier, after a record 8.5% annual drop in March.
Analysts say that situation is unlikely to improve soon.
"I think the danger is on the consumption side," said Mr Maruyama.
"With the limits on air-conditioning and so on, people may be tempted to stay at home, which may hold back consumption in the summer," he added.
Analysts warned that rising unemployment numbers may also dent consumer confidence and affect demand.
The latest data showed unemployment in Japan rose to 4.7% in April from 4.6% in March.
Related Internet Links
The BBC is not responsible for the content of external sites.