China raises power prices for non-residential users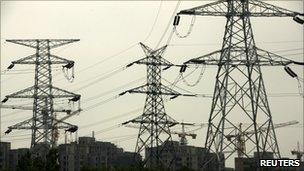 China has raised electricity prices for industrial, agricultural and commercial users in 15 provinces as the government grapples with a large power shortage.
The new tariff will see users paying an average of 16.7 yuan ($2.50; £1.60) extra per megawatt hour, according to the official Xinhua News Agency.
This is the first time China has raised electricity prices since November 2009.
The new tariffs will take effect from 1 June.
China has witnessed tremendous growth in the past few years and is now the world's second-largest economy.
However while demand for electricity has increased substantially, supply hasn't increased to match it.
The difference in supply and demand is expected to widen even further this summer, with a shortfall of almost 30 - 40 megawatts expected during peak periods.
Analysts say that price rises are key to solving the issues.
"This is obviously good for (dealing with) the power shortages and it was very much expected," said Lin Boqiang, director of the Centre for Chinese Energy Economics Research.
"The only way the problems can be solved is by adjusting prices," he added.
China's supply woes have been worsened by a slowdown in electricity production at the country's coal operated power plants.
These plants have been making huge losses due to a big spike in coal prices.
The Xinhua News Agency quoted the China Electricity Council (CEC) as saying that China's five biggest power producers reported losses of 10.57bn yuan ($1.62bn; £995m) in their thermal power plants in the first four months of the year.
The five main power producers supply about half of the country's power, according to the CEC.
While the government has raised power tariffs in a bid to improve that situation, analysts warn the move may not achieve its objective if coal prices continue to rise.
"Coal imports could rise after the power price hike as coal producers and trading companies are likely to raise coal prices, triggering more coal imports," said Want Wei of Guotai Junan Securities.
Analysts said that a rise in coal prices will wipe out any gains for power producers in the country.