Australian economy sees sharpest contraction since 1991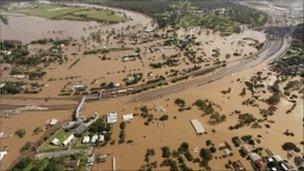 Australia has reported its biggest quarterly fall in gross domestic product (GDP) in 20 years.
Its economy contracted by 1.2% in the first three months of the year compared with the previous quarter, the latest government figures showed.
The government said flooding and cyclones in the resource rich states of Queensland and Western Australia had a significant impact on growth.
Australia's economy is heavily reliant on exporting its natural resources.
"The economy has hit a temporary pothole courtesy of the natural disasters this year," said Besa Deda of St George Bank.
Australia has not only had to deal with the twin natural disasters. Other factors have also slowed down its economy.
The country's growth has been powered by a boom in its resources sector.
As economies like China and India grew, the demand for Australia's resources witnessed a massive surge.
However, analysts say the situation is changing.
"We have been in a honeymoon period for a long time," said Jonathan Barratt of Commodity Broking.
"The time has come for realignment. As growth in China and India slows down, the pace of growth in Australia will also be affected," he added.
While the dip in growth was the biggest in two decades, analysts said that the numbers were better than the markets had expected.
"The market was very bearish in the last 48 hours," said Mr Barratt.
"The numbers are not as bad as people were fearing they would be," he added.
The effect of that was evident in the currency markets. The Australian dollar rose by 0.6% against the US dollar after the data was released.
It was trading close to 1.0723 against the US dollar in Asian trade.
While Australia's growth has been dented due to the twin natural disasters, analysts said they are not concerned about the long term health of the economy.
They say that strong fundamentals mean that Australia should be able to absorb the current dip.
"Underlying strengths of the economy, both domestic demand and gross national expenditure look very good," said Matthew Johnson of UBS Warburg.
"The temporary factors have given us the negative, but I am quite confident they'll come back," he added.
Analysts also said that as mining activity gets back to pre-flooding levels and reconstruction efforts take place in affected areas, economic growth will be back on track as well.
"We are looking for the economy to recover as this year progresses, as a rebound in coal exports occurs and we get a boost from construction," said Ms Deda.