NI company the Camden Group warns of job losses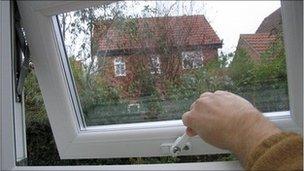 A County Antrim company has warned that it may have to make redundancies to cut costs.
The Camden Group is one of the largest manufacturers of PVC doors, windows and conservatories in the UK and Ireland.
Three months ago, the group announced it was investing £16m in research and development and intended creating 225 new jobs.
But in a letter sent to all employees it said it was reviewing its plans and there may be some redundancies.
In the letter, the company said it would be holding a series of meetings to examine whether job losses could be avoided or minimised.
Publicly, the company has not said how many of its approximately 500-strong workforce would be affected.
In a statement it said: "This in-house review hasn't been concluded as yet, but could result in some restructuring of the business and, regrettably, may involve a small number of redundancies.
"Similar reviews have been, and continue to be, carried out across the majority of private and public sector organisations in Northern Ireland and beyond.
"This review is in response to short term market conditions and hopefully will not impact on the medium term plans for the group."
One worker said he had already been told he has lost his job.
Kevin O'Hara had been working for the company for less than a year, until two weeks ago.
"My supervisor came to me after my tea break and said 'look I've got a letter here for you' and I couldn't believe it," he said .
"Invest NI were investing in the company and were creating 200 jobs. So I thought my job was safe."
Donal O'Neill from the Camden Group said it has to react to the economic climate, but the review it is undertaking is not complete.
"There's a major project being undertaken by Camden to put themselves in a very competitive position in the British Isles and that's a three-five year project," he said.
"Invest NI are supporting that project and that project is progressing. It's a lot of money for a local company to invest in developing that sort of facility.
"Aside from that we have to react in the short term to business conditions. Now everybody knows, business is extremely tight."