Gerry Adams' West Belfast replacement MP to be chosen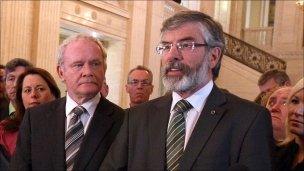 Voters in West Belfast are set to elect a successor to Gerry Adams on 9 June. Mr Adams stood down as MP for the constituency to become a TD (member of the Irish parliament) in Louth.
BBC NI Political Reporter Stephen Walker examines who is in the running.
In a bakery in Andersonstown, the Sinn Fein candidate Paul Maskey canvasses for votes and cheekily asks "are there any free buns?".
He gets a good reception, but ultimately leaves the shop empty handed.
Even though Sinn Fein is defending a 17,500 majority there is some nervousness.
No one suggests that this by-election is a "piece of cake".
At the last election, the party secured 71% of the vote and Sinn Fein are keen to repeat such figures.
Paul Maskey is no stranger to the electorate, having been returned as a West Belfast MLA last month.
If he is elected to Westminster he will become a "double-jobber" and will join four other Sinn Fein MPs who sit at Stormont.
It is a position that he says is coming to an end.
"We in our party have made it quite clear that we have supported legislation coming through that by 2015 double-jobbing will be no more," he said.
The SDLP have selected Alex Attwood who, like Mr Maskey, is already an MLA. Recently appointed as the new environment minister, he insists that if he wins he will stand down from the assembly.
Mr Attwood says a dual mandate can only be justified by party leaders and says he would concentrate on Westminster if he is successful on 9 June.
It is a big challenge for the SDLP who polled 5,261 votes compared to Sinn Fein's tally of 22,840.
Alex Attwood argues that Sinn Fein's refusal to sit in Westminster disadvantages the electorate.
"West Belfast needs a new start and a new voice not just in the North, but also on the floor of the House of Commons," he said.
There are other familiar names on the ballot paper, including Brian Kingston who is standing for the DUP.
A local Councillor, he ran in last month's assembly poll and accepts he has a hard battle. The former Shankill Mirror employee said "it may be a very long shot, but it is still very important that we fight every election".
Bill Manwaring is also philosophical about his electoral chances in Sinn Fein's safest seat. The UUP candidate entered politics two and half years ago and has stood for the party in previous assembly and Westminster polls.
"This is a 20-year plan for me. If I am still here for my 65th birthday and not elected I will not be overly surprised, but hopefully I will have made a lot of difference to a lot of lives," he said.
Gerry Carroll is another candidate who is experiencing deja-vu having run in last month's assembly election under the banner of People Before Profit.
He said his party's message was that "there is an alternative to the cutbacks".
Mr Carroll polled 1,600 first preference votes and, buoyed up by this performance, insists he can build on his first electoral experience and said his ideas were attracting support.
The Alliance Party have fielded 19-year-old Queen's University student Aaron McIntyre.
The youngest candidate on the ballot paper, this is his first foray into Westminster politics and he has set his sights on increasing his party's vote.
At the last general election, the party's West Belfast candidate Maire Hendron secured 596 votes. That figure is now in the sights of the new candidate.
He told the BBC that his personal target was 600 votes. When I asked him if that was possible he confidently replied "easily".
Despite the fact that this poll comes just weeks after the assembly and council elections, party workers say there is no evidence of voter fatigue.
Issues such as job creation, housing and under achievement in schools are being raised on the doorstep.
Gerry Adams was elected here in 1983 and turned this constituency into his party's safest Westminster seat.
In the early hours of 10 June we should discover who will follows in his footsteps.