Arizona wildfires: Your stories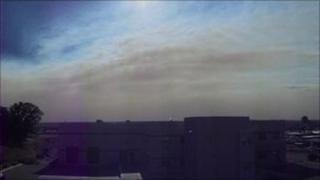 A wildfire in the US state of Arizona continues to grow as the blaze rages.
The so-called Wallow fire is now the second-largest in the state's history, with smoke said to be visible in New Mexico, Iowa, Nebraska, Kansas and Colorado.
It is thought the fire which started on Monday 30 May was caused by an unattended campfire.
BBC News website readers affected by the fires have been sharing their experiences.
Patrick Miller, Santa Fe, New Mexico
It is normally sunny here in Santa Fe but today it looks like Los Angeles. There is thick, pale-yellow smoke that fills the usually clear, bright sky.
It's eerie here; the Sangre de Cristo Mountains which border Santa Fe on the east are obscured by the smoke.
A lot of people are suffering with respiratory issues, such as sneezing, coughing and wheezing and it's really hot to boot.
All the forests of the mountainous Southwest are overgrown. The Ariz fire is in just such a forest. Fire suppression, coupled with human encroachment and drought has made the forests tinderboxes.
This fire is, in a very real sense, are man made, or at least made worse by men messing with things. While Santa Fe is hardly the centre of the fires news, it's still being affected quite heavily by them.
Normally Santa Fe is a healthy lifestyle list-clean air and water, lots of open spaces and all that and suddenly we find ourselves with dirty air and closed forests.
Larry Hastings, Heber, Arizona
Approximately 2,500 men and women are now assigned to this fire and crews from Utah, California, New Mexico and Colorado are now actively engaged.
I was just in the White Mountains of Arizona, about 30 miles from the fire. The mountain forest is tender and dry for over two hundred miles, and the winds seem to be getting stronger.
There is nothing that will stop this fire until the rains come in July. I believe this fire will need the monsoon rains before it will be under control.
Rachael Lewis, Albuquerque, New Mexico
The smoke here in the town is horrific. I've never seen any thing like this.
Starting Thursday evening going outside at night was tantamount to standing downwind of a campfire.
One evening I watched as what appeared to be a huge storm front bore down on the city but it was the smoke returning for the night.
All you can smell and taste is wood fire smoke, ash falls from the sky like a light snow shower. It is amazing considering that we are about 200 miles from the fire.