Dominique Strauss-Kahn 'complained about handcuffing'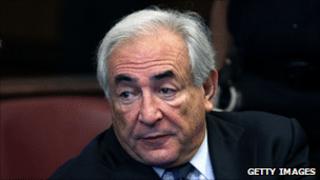 Former IMF chief Dominique Strauss-Kahn complained about being handcuffed and initially claimed diplomatic immunity when he was arrested for sexual assault in New York, official documents reveal.
Transcripts released by prosecutors in New York reveal the detail of the day Mr Strauss-Kahn was arrested at the city's JFK airport.
He has since resigned from the IMF and is living on bail in New York.
He has pleaded not guilty to charges of sexual assault on a hotel chambermaid.
His lawyer, Benjamin Brafman, refused to comment on the release of the transcripts.
Airport ruse
The transcripts reveal details of how hotel staff and police investigators managed to detain Mr Strauss-Kahn as he attempted to leave the country on an Air France jet.
As has previously been reported, Mr Strauss-Kahn phoned the Sofitel Hotel about 1530 local time (1930 GMT), saying he had left his mobile phone.
While police listened in, the hotel promised to return it to him at the Air France terminal at JFK International Airport. Instead, police arrived to arrest him.
At the airport police station, detectives ordered Mr Strauss-Kahn to empty his pockets, the documents show, followed by this exchange:
Detective Maharaj: "Please have a seat."
Defendant: "Is that [handcuffing] necessary?"
Det Maharaj: "Yes, it is."
Defendant: "I have diplomatic immunity."
Det Maharaj: "Where is [your] passport?"
Ten minutes later, Mr Strauss-Kahn asked if he could be handcuffed "in the front", and five minutes after that, he said, "I need to make a call and let them know I won't be at my meeting tomorrow. These handcuffs are tight."
Breakfast
Five hours later, at 2100 (1600 GMT) at Manhattan Special Victims Squad:
Defendant: "Do I need a lawyer?"
Detective Rivera: "It is your right to have one in this country if you want. I don't know if you have some kind of diplomatic status."
Defendant: "No, no, no. I'm not trying to use that. I just want to know if I need a lawyer."
Det Rivera: "That is up to you."
Several days after his arrest, the IMF said Mr Strauss-Kahn, as managing director, had only limited immunity that was not applicable in the New York case.
Two hours after Mr Strauss-Kahn asked whether he needed a lawyer, he told the detectives the lawyer had told him not to talk.
The following morning, the transcript shows Mr Strauss-Kahn asking for some eggs for breakfast, followed by a sandwich.