Japan's industrial output and household spending rise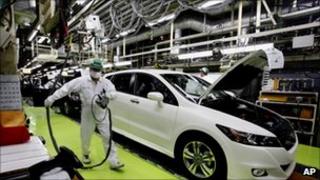 Japan's economy has continued to recover from the aftermath of the earthquake and tsunami, latest government data showed.
Factory output rose 3.9% in June from the previous month as supply chain concerns eased, while household spending increased by 0.8%.
Analysts said it showed the economy was recovering faster than expected.
The data comes a day after Japan reported a rise in retail sales for the first time since the 11 March quake.
"I thought we had to wait until the middle of next year for production to come back up to levels seen before the earthquake," said Seiji Adachi, of Deutsche Securities.
"But it now looks like manufacturing activities might go back to where they were as early as January-March next year," he added.
Strong forecast
Japanese manufacturers were hit hard by the devastation caused by the earthquake and tsunami.
Disruption to the country's supply chain saw some of the biggest manufacturers curb or suspend production.
However, as the infrastructure is restored, manufacturers are becoming increasingly optimistic.
According to a survey done by the Ministry of Economy, Trade and Industry, manufacturers expect output to rise 2.2% in July and 2% in August.
"Manufacturers' strong forecasts for July and August suggest the recovery in output remains on track," said Tatsushi Shikano, of Mitsubishi UFJ Morgan Stanley Securities.
Overcoming challenges
The recovery in the supply chain and factory output has come despite the manufacturers facing various challenges, not least a shortage of electricity.
Japan has been facing a power shortage after the twin natural disasters damaged the Fukushima Daiichi nuclear plant and forced the closure of various other nuclear plants in the country.
There were concerns that the electricity shortage would hit production, especially during summer months, when demand for power is at its peak.
However, analysts said manufacturers were able to overcome this shortage by implementing changes to their working hours.
"Power problems are having less of an impact than previously thought, thanks to companies' efforts to avoid operating during peak power demand hours," said Mr Shikano.
Currency woes
While the manufacturers have been able to overcome these challenges to get their production back on track, other factors continue to remain a threat.
The biggest amongst them has been a strengthening Japanese currency.
The yen, a traditional haven, has been rising against the US dollar in wake of the ongoing debt issues in the US and Europe.
A strong currency does not bode well for Japanese manufacturers as it not only make their goods more expensive to foreign buyers, but also hurts the companies' profits when they repatriate their foreign earnings.
"The yen's strength, if sustained for a long time, could dampen production in the longer term by hurting corporate earnings and thus their capital expenditure," said Mr Shikano