Indian broadcasters in Bollywood birth code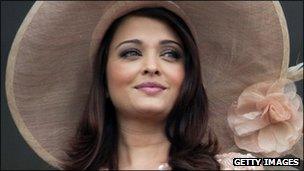 India's Broadcast Editors' Association (BEA) has taken the unusual step of agreeing on a 10-point code of conduct to govern their coverage of Bollywood star Aishwarya Rai Bachchan giving birth to her first child.
Amitabh Bachchan, Bollywood mega star and father-in-law of Aishwarya Rai, has said that he is touched by the media's self-imposed restraint.
Observers say that the BEA code could change forever the way Indian television treats celebrities.
An internal memo, circulated by the Broadcast Editors' Association to television journalists, lists ten points that will govern their coverage of Aishwarya Rai Bachchan's baby.
According to these guidelines, there will no pre-coverage of the event, and the story will be run only after, and on the basis of, the official announcement. It will not be treated as breaking news.
The guidelines also forbid sending cameras or outdoor broadcast (OB) vans to the hospital or any other location related to the story, while journalists have been asked to keep the duration of the story to around a minute/ninety seconds.
Amitabh Bachchan has welcomed the BEA move and said that he was touched by the media's self-imposed restraint.
"I am also most touched by the decision taken by the electronic media on the coverage issue for Aishwarya's delivery... humbled!!" Bachchan wrote on Twitter.
Earlier, in a blog post Bachchan, had poked fun at the electronic media for cooking up stories on how Aishwarya had celebrated her birthday.
"The entire day and afternoon has been spent in laughing among ourselves and ROTF (Rolling On the Floor) at the ridiculous time and attention being given in the electronic media to the birthday of Aishwarya... all of which is completely and entirely made up", he had said.
Bachchan himself initiated the media frenzy in June this year with a tweet announcing the pregnancy of his daughter-in-law.
"News news news!! I am going to become a grandfather. Aishwarya expecting. So happy and thrilled," Bachchan tweeted.
There may be restrictions on the news coverage around the birth of actors Aishwarya Rai Bachchan's baby, but that hasn't stopped the bookies from betting big money on it.
Reports suggested that 1.5 billion rupees (around 30 million dollars) was riding on bets on whether Ash will deliver on November 11 or not.
"This date has come after hundreds of years and astrologers say it's auspicious - that's why it's a hot favourite with most betters," says a Delhi-based bookie.
While Bollywood actor Aishwarya Rai Bachchan is all set to welcome a new guest, nurses at Seven Hills Hospital, where the Bachchan family has booked a lavish and expensive suite on the fifth floor with its own private spa, found an opportune time to force the management to agree to their demands.
They went on a flash strike on 9 November for three hours to ask for a salary increase.
The management, which is under pressure to deliver high-quality health care to the Bachchan family, verbally agreed to hike their salary and the strike was called off.
But there is serious note. According to media observers, the BEA move was an outcome of self-realization on the part of editors of Indian TV channels that they were spending more time covering non-issues, and it could forever change the way Indian television treats celebrities.
The BEA general secretary N K Singh in a recent article quoted the new chairman of the Press Council of India, retired justice Markandey Katju as demanding an opinion poll on the present role of the electronic media.
"If the public is asked whether the media was ignoring poverty and highlighting trivia, 90% of the people would say yes," he said.
BBC Monitoring selects and translates news from radio, television, press, news agencies and the internet from 150 countries in more than 70 languages. It is based in Caversham, UK, and has several bureaux abroad.
Related Internet Links
The BBC is not responsible for the content of external sites.