Belfast's Titanic festival launches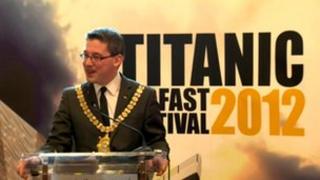 The return of MTV to Belfast and the world's biggest ever digital light show are just two of the events in a three-week festival marking the centenary of the launch and sinking of the Titanic.
The festival, which was launched on Wednesday, will mark the city's part in the international Titanic story.
Plays, films, talks and the opening of a Titanic Memorial Garden will also be part of the commemorations.
The festival will run from 31 March to 22 April.
It will begin with the opening of the new multi-million pound Titanic Belfast visitor attraction on 31 March.
Speaking at Wednesday's launch, Belfast's Lord Mayor Niall O Donnghaile, praised the Festival for its appeal in attracting visitors from all over the world.
"There's a huge mix of events, something for everyone really in 2012 and indeed beyond," he said.
"It will be hard for me to see beyond MTV coming back. They're going to be staging a huge concert down at Titanic Belfast on the actual slipway where the ship was built, so no doubt I'll be getting tortured for tickets all over again."
Huge investment
Tourism minister Arlene Foster said she was impressed with the mix of 120 events that would be on offer.
"As well as that, I'm very pleased at the collaboration that has taken place between Belfast City Council and the Northern Irish Tourist Board," she said.
"It worked very well for us during the MTV awards and I think it's going to work very well for this."
Northern Ireland Tourist Board Chief Executive Alan Clarke said a "huge investment" of £300m in tourism was paying dividends.
"Feedback has been tremendous, with tens of thousands of followers on social media sites alone, delivering fans of Belfast in greater numbers than ever before," he said.
"Belfast City Council has developed a world-class programme of activities for the Titanic Belfast Festival and we have been delighted to work with them and help in its creation.
"I encourage everyone to embrace the festival and the wider ni2012 campaign."