Australia Tourism targets China's secondary cities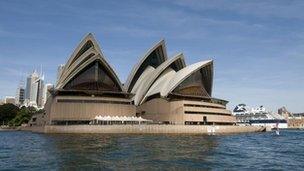 Australia says it plans to target China's rapidly growing second-tier cities to boost tourism revenue, based on new findings.
The research, released on Monday, is the first time Tourism Australia (TA) has commissioned a study into China's secondary cities.
China is already Australia's fastest growing tourism market, worth more than A$3.8bn ($4bn, £2.6bn) in 2011.
TA's marketing is currently focused on Beijing, Shanghai and Guangzhou.
A record number of 558,600 Chinese visited Australia in the 12 months from January 2011.
Tourism officials believed that the Chinese market has the potential to grow annual overnight visitor expenditure between A$7bn and up to A$9bn by 2020.
The research into 13 Chinese cities including rising secondary cities such as Chongqing, Shenzhen, Tianjin, Suzhou and Hangzhou found that Australia was the long haul travel destination many people wanted to visit.
The findings also indicated that Australia was viewed an ''aspirational, highly regarded, 'must-visit' destination'' among many middle-class Chinese.
Attractions such as the Sydney Opera House and the Great Barrier Reef were listed as the most desired places to visit in the country.
"We plan to use these findings to help prioritise our marketing activities in China," TA managing director Andrew McEvoy said.
He added that a ''further record investment'' will be made in marketing resources in China this year.
Australia announced its China 2020 Strategic Plan in June 2011, to target up to 30 Chinese cities for tourism growth.
"The response in China to Tourism Australia's current 'There's nothing like Australia' campaign has been better than anywhere else overseas, with over 90% of those who see the campaign confirming they had started researching a future trip to Australia," Mr McEvoy said.