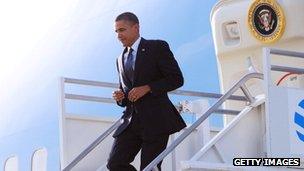 The political attack advert was posted online before Barack Obama had even left the White House for Hollywood.
His opponents pick on many things, but this was a good one: he was just too cool to be a good president.
"America elected the biggest celebrity in the world," the advert flashes up on screen.
"America's got one cool president," it said, among images of Mr Obama glad handing the rich and famous, his face scattered with electronic stardust.
Then the advert grinds to a halt and switches to black and white.
"One out of two recent college grads are jobless or underemployed. After four years of a celebrity president, is your life any better?"
There's already a lot of money swilling around the election campaigns and much of it is going to be spent on this kind of negative advertising and dirty campaigns.
George Clooney, the host of this week's biggest ever money-spinning fundraiser, knows plenty about that.
The A-list star, who pulled in some of the biggest names in Hollywood and even bigger chequebooks for the fundraising event, has such an interest in politics it sometimes spills over into his day job.
He starred in, directed and co-wrote The Ides of March, an Oscar-nominated political thriller about the dirtier side of politics on the presidential campaign trail.
In that film, Clooney's character, the presidential candidate, was more liberal than anyone standing in this year's election - and has an affair with his intern.
Democrats have traditionally got on better with Hollywood than Republicans.
"There's always been a relationship between Hollywood and Washington, going back to almost the beginning of the film business," says big-name film producer and fundraiser Mike Medavoy.
He and his equally accomplished political fundraising wife Irena disagree on why the Obama campaign toned down the stardust in the last election.
"Last time, I don't think they thought they would get the support from Hollywood, as the Clintons already had a strong tie with Hollywood," Mike Medavoy says.
Irena believes the Obama campaign could have won that support but chose not to, but says this time around it is a different campaign.
"I think they are in a very big fight. This is going to go down to the wire," she says. A big theme of this election, her husband says, is "show me the money".
"It's pornographic what they are spending," he says.
"Hollywood right now is a source of very big cash, but also they are surrogates," providing valuable endorsement to their many fans.
The Republicans are certainly raising huge amounts of money for their Super-PAC political pressure groups. Both candidates are expected to have more than $700m (£435m) behind them during the campaign.
The Clooney fundraiser - actually organised by DreamWorks studio chief Jeffrey Katzenberg - raised nearly $15m. More than half of that came from an online lottery aimed at grassroots supporters.
Supporters had to donate $3 or more for a chance to win one of two seats at the table.
Like last time around, the Obama campaign is keen to emphasise the importance of the many small donors, rather than a few massive gifts from the super-rich.
But they will also depend on those with big bucks to compete with Mitt Romney's money-raising resources.
The timing of President Obama's support for gay marriage this week certainly played to the liberal Los Angeles entertainment-industry crowd.
At the sell-out $40,000-a-head dinner, the president didn't even have to spell it out to get an enthusiastic round of applause.
"Obviously, yesterday we made some news," he said, in relation to the clear position he took on same-sex unions.
There's been plenty of speculation on the timing. The LA Times provided one of the best headlines on what President Obama described as a decision that had evolved over time.
"Evolution or Intelligent Design?" the paper asked.
Six months before an election, every incumbent only makes controversial calls like these with polling figures to back them up.
Those figures show a slowly increasing support for same-sex unions, but it is a deeply divisive issue, which could cost him valuable votes in swing states.
In California, it's had more people reaching for their wallets.
"There's been an extraordinary response," says John Gile, who is organising a Lesbian, Gay, Bisexual and Transgender (LGBT) fundraising event for Mr Obama in Los Angeles next month, starring a performance from the singer Pink.
"People have been in a waiting mode to see when this would happen and we have a lot of left, progressive, wonderful people that are opening their cheque books and their wallets and lining up to attend.
"It's just one more step to bringing our country forward on a lot of levels."
Americans may be hearing a lot more of that word "Forward" over the coming months - it appears to be a favourite to replace "Change", which won Barack Obama so much support last time around.
The campaigning and the fundraising are only just getting started, so this won't be the last of the big-money, star-spangled fundraising affairs.
But it might be the only one which allows the president to play a spot of basketball with George Clooney before jetting out of town.