JPMorgan Chase faces growing scrutiny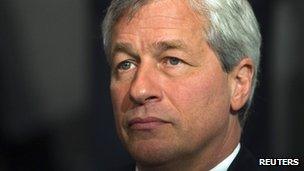 US politicians have renewed calls for tighter financial regulation, after JPMorgan Chase bank revealed a trading loss of $2bn (£1.2bn) on Thursday.
The bank's shares plunged by almost 10% on Friday, wiping $14bn from its value.
Democrat Congressman Barney Frank said the scale of the mistakes "blows up" the argument against tighter rules.
JPMorgan boss Jamie Dimon said the losses resulted from a strategy of hedging that was supposed to protect the bank from risk.
But critics disputed his claims, alleging that such losses were more likely to have come from risky bets.
"This is not a hedge," said Democratic Senator Carl Levin, who helped frame the 2010 Dodd-Frank Act on financial regulation.
"This was a major bet on the direction of the economy, and when those kind of bets are lost, we all pay the price."
Other proponents of tighter rules also seized the chance to air their concerns about the regulatory system.
Congressman Frank, who also helped to frame the Dodd-Frank Act that bears his name, said: "When a supposedly responsible, well-run organisation could make such an enormous mistake with derivatives, that really blows up the argument: 'Oh, leave us alone, we don't need you to regulate us.'"
JPMorgan weathered the 2008 financial crisis better than most of its rivals, and Mr Dimon emerged as the chief opponent of greater regulation.
On Thursday, Mr Dimon, who serves both as chief executive and chairman of JPMorgan, blamed the losses on "errors, sloppiness and bad judgement" and warned "it could get worse".
Analysts say the firm is still in better health than many of its competitors, and the losses incurred should be manageable.
The trading was carried out by a small unit based in London.
Media reports have focused on a single trader, Frenchman Bruno Michel Iksil, nicknamed the London Whale, who reportedly made big bets on the financial markets as part of a hedging strategy.
But insiders have dismissed claims that he was a "rogue trader", saying it was the wider strategy that was at fault.
US regulators have said they are taking notice of the developments, but no inquiry has yet been officially announced.
Related Internet Links
The BBC is not responsible for the content of external sites.