Graff delays $1bn Hong Kong listing as market declines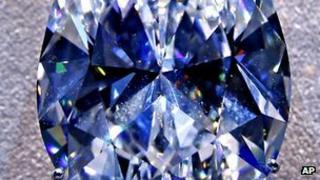 Graff Diamonds has delayed its $1bn (£646m) share sale in Hong Kong citing adverse market conditions.
The firm was in the process of meeting investors and was expected to end its share offer later this week. It was set to be the biggest in Asia this year.
However, Hong Kong's main stock index, the Hang Seng, has been under pressure and is down 11% over the past month.
Investors have become increasingly cautious amid continuing concerns about the state of the global economy.
On Thursday, the Hang Seng index dropped by 1.6% to 18,390.48 in early trading.
Graff is the third company in the past week to pull its listing from the Hong Kong stock exchange.
China Nonferrous Mining, a copper producer, also delayed its planned $313m listing on Wednesday. China Yongda Automobiles Services pulled its $434m sale on Monday.
Earlier this week, Graff's chief executive Francois Graff said that there was a lot of interest in the company's share listing.
"We are building the book everyday, we have tremendous interest in the company across the board, we are very happy," he said.
Graff has been building its business in Asia and has stores in cities including Hong Kong, Shanghai, Taipei, Beijing and Tokyo. It is planning to open further outlets in Hangzhou and Macau later this year.
The London-based jeweller was founded in 1960, and its clients have included Imelda Marcus, Oprah Winfrey and the Sultan of Brunei.