Euro 2012 win gives struggling Spain a lift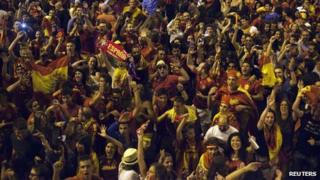 There are lots of unknowns in Spain at the moment. When will the economy start growing again? How much bailout money will the country's troubled banks need?
On Sunday night, and for much of Monday, and maybe even much of this week, the economy will be a less popular topic of conversation in the bars and cafes of Spain's big cities.
Talk of doom and gloom will be replaced by euphoria about the answer to one simple question: Who has the best football team in Europe? Spain.
Standing with the huge crowds, watching the final of the European Championships on big screens by Real Madrid's Bernabeu Stadium was 37-year-old Cristina Martinez.
She is a nurse and, on Sunday had just completed her first day's work in 11 months as she was, during that period, one of the more than five million in Spain who are unemployed.
"We'll forget all the bad things that are happening. Even if it's just for one day," she said.
'Invincible'
When you ask people about how Spain's economy got into such a mess there is often a hint of embarrassment or shame.
However the Spanish press and people here are now awash with pride.
"Spain changes football," is one of the bolder headlines from Spain's El Mundo newspaper on Monday.
"Invincible Spain," says Spain's ABC newspaper.
"Spain and no-one else" is the headline of the main sports newspaper, Marca, referring to the fact that no other team has ever won two consecutive European titles with a World Cup in between.
When Fernando Torres scored Spain's third goal the party began.
Madrid's main avenues were awash with red and yellow as huge crowds blocked the traffic to a chorus of beeping car horns.
One young lady told me that "because of the crisis, this is even more amazing".
She then joked to me that there would be even more people out celebrating throughout Monday, a reference to the large numbers of people in Spain who are out of work.
"Huge," was the way a young man described Spain's victory. "For one night we are happy," he said.
The morning after
In my local cafe in central Madrid, there were plenty of sore heads and bleary eyes as I popped in to grab a croissant on the way into work.
People know how to party hard in the Spanish capital, even when there is no reason.
Sunday night, my road was a cacophony of celebration as I tried to go to sleep at 04:00.
At 08:00 when I woke up I heard someone still singing.
But there still was a queue this morning outside the government office, giving support to struggling families, near where I work.
Because of the economic crisis, life is much tougher for millions of people in Spain, and government austerity measures have still not really hit home.
However as the Spanish team parades their latest trophy through the streets of Madrid later this afternoon life will feel a little better for many.
Spain's economy might not be the envy of the world. Their football team is.
Italy was Spain's key ally in discussions at a European summit last week.
Italian Prime Minister Mario Monti teamed up with Spain's Mariano Rajoy, and the pair won important concessions, which could help ease the pressure on Spanish debt and the related problems facing the Spanish economy.
On Sunday night it was the eurozone's fourth-largest economy that came out on top, and the numbers were easy to interpret.
A score-line of 4-0 left no-one, even in Italy, asking who deserved to win.