Yum Brands profit growth hurt by higher China costs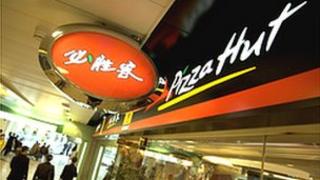 Yum Brands, which runs the KFC, Pizza Hut and Taco Bell restaurant chains, has seen its profit growth capped by higher costs in China.
The company said its second-quarter profits rose by 5% to $331m (£211m), compared with £316m in the same period a year earlier.
Yum said its Chinese earnings were squeezed by higher wage and food costs.
China's economy has been slowing, and there are concerns that this will hamper growth at multinational firms.
However, the company looked to play down any long-term worries, saying that the weaker Chinese performance would be short lived.
Analysts added that the increased costs faced by Yum were due to its rapid expansion in the country, with restaurant numbers hitting 4,600 nationwide.
"The earnings miss is because China margins were a lot softer than people expected, but that's largely a function of them growing," said Sara Senatore of Bernstein Research.