Are you pursuing the Indian dream?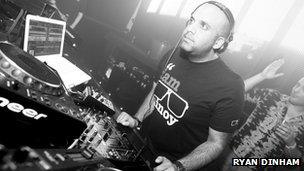 A nightclub DJ plays a set in Mumbai. But although he has Indian origins, Anil Chawla was born and raised in the UK, and moved to India in search of better opportunities.
Indian immigrants have had a major impact on business, society and culture in countries such as Britain and the US, but now many of their children and grandchildren, like Anil, are moving in the opposite direction.
In recent years, India has become a magnet for young aspiring professionals, particularly those of Indian origin, who are trying to escape western economic woes.
The growth in India's economy is slowing down, but people continue to flock there. The number of Britons applying for lifelong visas has soared, and immigration offices in major cities are always packed.
In a complete reversal of the story of the last 50 years, some are even sending money back to their families in the West.
Are you in India? Why did you decide to go there? Have you been successful?
Or are you in the process of deciding whether or not to go? How big a risk do you think you are taking? What opportunities do you hope to find?