Fears over long-term flood impact on tourism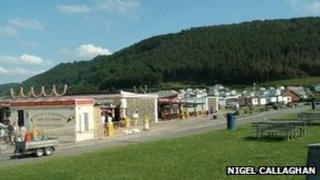 Holiday operators affected by June's floods in mid Wales have expressed fears for the region's recovery as the holiday season starts.
Devastating floods following heavy rain wreaked havoc, with scenes of caravan parks and homes under several feet of water.
One operator said fields usually filled with tents and caravans remained empty.
However the Wales Tourism Alliance reported a last-minute boost in bookings as the sun came out last week.
Thomas Scarrott is one of the directors of Vale Holiday Parks which runs eight sites in Wales including Clarach Bay near Aberystwyth, said the scenes of flooding last month had played a part in deterring visitors to the region.
"I can see out of my window fields which are empty, which are usually filled with tents and touring caravans.
"Out and about I can probably count the number of people on one hand. A lot of people turned on the news and saw the damage the floods did to the area.
"It hasn't really showed at all the way the community has come together to rebuild in a very short space of time," he said
"When the weather's nice, naturally we do have an increase in people. We're a weather dependent business, but that's always the case in the summer.
"This year, I've had people emailing me asking if we were still in existence. I honestly think the flooding has put them off.
"Lots of people didn't want to come because they didn't want to risk something similar happening to them."
However Wales Tourism Alliance chair Chris Osborne, who runs the Fourcroft Hotel in Tenby, sounded a note of optimism.
"There's been a remarkable coincidence with the sun coming out and the school holidays starting - that doesn't often happen," he said
"Bookings have picked up but you have to be mindful that because people are booking later the lead-in time is a lot shorter."
He said people were now able to book hours ahead rather than months thanks to the internet.
Valerie Hawkins, chief executive of Mid Wales Tourism, agreed that last minute booking was much more common this year.
She said the sun had come in good time and bookings were reasonable for the time of year.
"One of the things we're finding is people are leaving it very late to book so when it's good weather we're trying to get the message out there that Wales is a great place to come."
A Welsh government spokesperson said: "Tourism officials from the Welsh government met with businesses shortly after the flooding to establish if any appropriate support could be extended."
Meanwhile, an appeal fund for victims of June's severe flooding in Ceredigion has topped £100,000, and the first cheques will be handed out next week.