South Africa police face torture-death investigation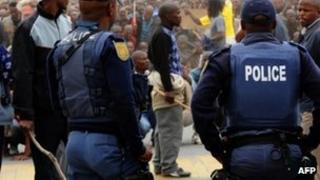 South Africa police are being investigated for allegedly torturing a man to death in the capital, Pretoria.
The country's Independent Police Investigative Directorate (IPID) said a 28-year-old man was allegedly taken from his parent's home on Wednesdsay.
It is not known why he was arrested, but he was allegedly tortured at a police station, IPID said.
He was then taken to a hospital in an unmarked vehicle but was not admitted as he was already dead.
Police are already facing intense criticism over their shooting dead last month of 34 striking miners in Marikana, about 100km (62 miles) north-west of Johannesburg.
President Jacob Zuma has ordered a judicial inquiry into the what has become known as the "Marikana massacre" - the most deadly police action since the end of apartheid in 1994.
IPID, a government agency responsible for investigating complaints against the police, said no arrests had yet been made over the latest incident.
The post mortem examination of the man who was allegedly tortured in Pretoria is to be held on Friday.
"Apparently the police tried to have the post mortem done before the family became aware of the death," an IPID statement said.
The BBC's Pumza Fihlani in Johannesburg says there are frequent reports of police torture but it is always denied by the authorities.
It is also difficult to prove such allegations unless a thorough medical examination is done, she says.