Somali journalist on braving Mogadishu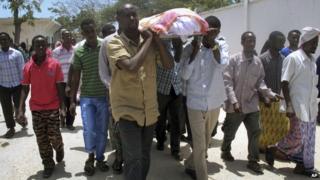 Somalia is one of the most dangerous places in the world to be a journalist - nearly 20 people who work in the media have been killed this year.
They are usually targeted killings, not people caught in the crossfire between the UN-backed government forces and Islamist militias.
Omar Faruk Osman, secretary general of the National Union of Somali Journalists, says despite the recent election of a new president and the ousting of al-Shabab fighters from Mogadishu, life is actually getting worse, not better for journalists in the country, which has known constant warfare for more than two decades.
Omar Faruk Osman:
When I leave home, I have to be on my guard.
I have to see whether an assassin is waiting for me at the door.
I have to look under my car to make sure an explosive device has not been planted there.
I have to constantly change my route to and from work so that no-one is waiting to ambush me.
And I have to take a zig-zag route to avoid being tailed.
Nor do I give a fixed time when setting up appointments - just in case an assassin is waiting for me.
This is the life of a journalist in Somalia's capital, Mogadishu.
We change the hours we come to work and the time we leave.
Beheaded
Because of the security threat, I have been forced to move house twice.
I rarely meet colleagues in a group. If we are all in the same place - or same car - we risk drawing attention to ourselves and inviting danger.
Somalia has recently got a new constitution, parliament and president, raising hopes that the conflict which has hit the country for more than 20 years will finally end.
Mogadishu has been booming for some time now, with new buildings, hotels, and people from the diaspora returning.
This has given residents renewed hope.
In fact the situation is getting worse for journalists.
September - when the new president was elected by MPs - was the deadliest month: Seven were killed in 11 days, all in Mogadishu.
One had his head chopped off - the most gruesome killing of a journalist in Somalia.
All those targeted so far have been male.
Journalists are now more in danger in Somalia than at any time over the past two decades of violence and anarchy.
Usually it is their reports that put them at risk.
Stories on politics, the security situation or other sensitive issues - that one party either wishes to suppress or feels has not been in their favour - are the most dangerous.
Initially a journalist may be intimidated or an attempt is made to bribe them.
If this fails, the bullet becomes the price the journalist pays.
Some of those suspected of killing journalists are members of the Islamist militant group al-Shabab.
The al-Qaeda-aligned militants, who were expelled from their bases in Mogadishu last year, often stage such assassinations to gain publicity.
They are guaranteed headline news - for a bullet worth less than $5.
It shows Somalis and the world over that they are still effective and capable of shaking up the society.
And despite such monstrous crimes, they enjoy total impunity.
Some of those arrested on suspicion of carrying out the killings have been released shortly afterwards and nobody has explained why.