Flag violence is 'damaging' Belfast's trade and tourism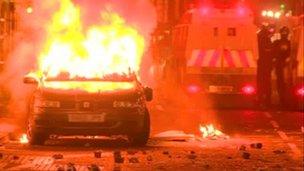 A Belfast businessman has said violence during union flag protests over the past week has damaged the image of the city and affected trade and tourism.
Bob McCoubrey said his restaurants lost several thousand pounds due to cancelled bookings on Saturday.
He attended a business event in Dublin at the weekend and said the perception among delegates was that Belfast was "not a place to go to at the moment".
He said he spent his time trying to convince them it was safe to visit.
Mr McCoubrey was presenting a stall at the Irish National Crafts and Design Fair in Dublin's RDS on Saturday.
He said the violence was the most popular topic among people who spoke to stall holders representing Northern Ireland.
"Unfortunately, most of the conversation - when we should be pitching to them the restaurants, the hotels, the attractions - we're actually standing giving them a talk on how localised the trouble is and trying to convince them of the fact that Belfast is a very safe city.
"All the investment and all the money that's gone into the past year's events for tourism here has kind of gone all down the drain, temporarily.
"Hopefully it is a temporary thing, but the perception here (in Dublin) is that Belfast is in flames and not a place to go to at the moment," he said.
The protests have now been ongoing for a week.
They began last Monday night when Belfast City Council voted to change its policy of permanently flying the union flag at Belfast City Hall.
The flag will now flying on designated days, rather than 365 days a year, following a compromise motion proposed by the Alliance Party.
Some of the protests have resulted in sporadic rioting - up to 28 police officers have been injured to date.
A number of councillors have received death threats, vehicles have been hijacked and burned and there have been several attacks on the homes and offices of Alliance party members.
As a result of the ongoing protests, Belfast Hospital School has cancelled its annual prize-giving ceremony which was due to be held at Belfast City Hall on Monday night.
The school provides educational for sick and disabled children, some of whom are long-term hospital patients.
The event is due to be rescheduled in the new year.