Radio 1 defends decision to ban sports jerseys from Big Weekend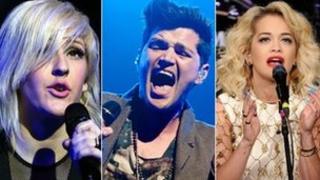 BBC Radio 1 has defended its decision not to allow sports jerseys at the Big Weekend music festival in Londonderry.
The three-day pop event, which begins in Derry tomorrow, has a strict clothes policy for the 37,500 music fans expected at the series of gigs.
Among the headline acts are Bruno Mars, Calvin Harris and Olly Murs.
The event will be broadcast across a number of BBC radio and TV platforms over the weekend.
'Inclusive environment'
On its official website, concert-goers are told: "Please don't bring sporting tops - entry will be refused to those wearing football shirts, GAA jerseys and similar clothing.
"Golf umbrellas, flags, portable chairs and a range of other items are also not permitted."
Explaining the policy, a BBC Radio 1 spokesperson said the aim was to ensure that the music event was as inclusive as possible.
The spokesperson said: "Radio 1's Big Weekend is a music event.
"Our terms and conditions, which have been developed in discussion with local partners, are intended to create a safe and inclusive environment for everyone attending."
Radio 1's Big Weekend is now in its 10th year, and last visited Derry in 2004.
This year, for the first time in its history, the show is being held across three days, with a capacity of 12,500 people a day.
Set in Ebrington Square and coinciding with City of Culture celebrations, the concerts will feature more than 40 of the biggest UK and international artists and is one of Europe's largest free music festivals.
On Saturday, the music line-up includes Biffy Clyro, Two Door Cinema Club, Ellie Goulding, Conor Maynard and - somewhat appropriately - The Saturdays.