Nelson Mandela: Lawyer Albie Sachs says people are 'grieving already'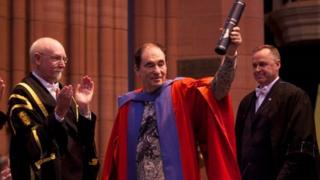 As Nelson Mandela remains critically ill in hospital, a key ally in the battle against apartheid has reminded the world of the former leader's immense contribution to humanity.
White lawyer Albie Sachs defended many of those charged under the oppressive laws of the old regime.
He was himself arrested, placed in solitary confinement, tortured, then blown up by the security services after he was driven into exile.
He lost an arm and the sight in one eye in the explosion - but went on to become an advisor to the African National Congress.
He was involved in drawing up the country's new constitution before Mandela appointed him as a judge.
Now aged 78, Mr Sachs is visiting Glasgow to deliver a lecture and receive an honorary degree from the University of Strathclyde.
With Mandela in a critical but stable condition in hospital, he told BBC Radio Scotland's Good Morning Scotland programme how the loss of the former president would be felt in the country he did so much to unite.
He said: "We will lose an immensely significant symbol.
"We'll feel a sense of loss and grief and just as he united the nation when he was president, so he unites the nation in his death because there is grieving already.
"That cuts across class and background and colour, even political affiliation."
Mr Sachs has no fears the loss of such an important symbol would cause any tumult in the country.
He said: "On the contrary, the fact he's in a very grievous state is bringing South Africans together. There will be a great sense of loss, but he stepped down a long time ago.
"It was 1999 that he ceased to be president and five years later he announced he was retiring from his retirement because he had been so busy. He said: 'Don't call me. I'll call you'."
Mr Sachs, who was born into a South African Jewish family of Lithuanian background, recalled how he himself had suffered in his years fighting apartheid.
He said: "I have been locked up without charge or trial under the law. I have suffered sleep deprivation and torture.
"The law protected the people that did that, rather than expose them."
The day he was blown up remains a vivid memory.
He said: "It was 1988, a public holiday in Mozambique, and I was about to go to the beach to celebrate a day off and... boom. I knew something terrible had happened. A woman's voice said it was a car bomb."
But instead of wallowing in self pity, he reacted in a radically different way.
He said: "I fainted into joy because I knew I would survive and knew with total certainty that as I got better, my country would get better."
Years later, Mr Sachs met the man who planted the bomb after he had confessed in return for an amnesty, and even shook his would-be assassin's hand - but had to use his left hand, because he had lost his right arm in the blast.
He also told of his joy when the new constitution came into effect.
He said: "Suddenly, the law that had been used as an instrumental to club people and deny them their rights was being used to protect people. To enable people to achieve dignity. To have the vote. To speak freely. To move around. To do things protected by the law rather than be harassed by the law.
"To be party to that and to develop the idea of the law as emancipatory and not repressive, it was healing - not just for South Africa, but for me as a person, to see the role the law could play and being part of a judiciary working with a constitution that was widely admired throughout the world."
With prayers for Mandela being said across South Africa, Mr Sachs added: "He'll be amused at the idea that he's now silenced, finally.
"Nature has silenced him in a way the apartheid regime never could."