Nelson Mandela at 95: Your stories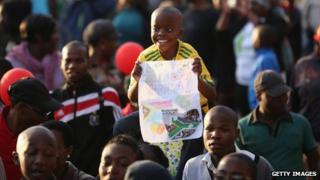 Nelson Mandela is spending his 95th birthday in hospital in South Africa as events take place around the country in his honour.
South Africans have been urged to mark Mr Mandela's 67 years of public service with 67 minutes of charitable acts.
Mr Mandela's birthday is also Nelson Mandela International Day, a day declared by the UN as a way to recognise the Nobel Prize winner's contribution to reconciliation.
Here people in South Africa tell us how they are marking the day.
Lizzy Peterson, Durban, South Africa
I'm an Irish lady who moved to South Africa five years ago at the height of the recession.
I will be honouring the beloved Madiba by helping out at a local orphanage.
I'm a special needs trained teacher and I will be helping out with the children - many of whom have special needs.
I'm basically an extra pair of hands today.
Lots of people have jumped at the opportunity to help out because it's Mandela Day - more than 50 people have turned up.
I think this day will open people's eyes to the good things that can come from volunteering locally.
Paul Blomkamp, Johannesburg, South Africa
I completed a painting that will be screened in New York's Times Square for 30 seconds eight times per hour over 24 hours.
I wanted to paint an image of someone with amazing energy.
I wanted to paint the energy that Mandela has. I've broken the lines down into shooting lines of energy.
He is a man who has suffered persecution and hardship and had the strength to give us forgiveness, love and kindness. I could paint him for the rest of my life.
I want to plant a massive garden in the shape of Mandela's face in the semi-desert area of Karoo so his image will be kept alive.
Neo Maimela, Pretoria, South Africa
I am working as normal today but this weekend I will be getting involved in charity work in honour of Mandela.
A group of people from several companies are joining up to help re-furbish schools in the Pretoria area.
We will be fixing broken windows and doing gardens, and also visiting orphanages. There will be around 1,000 people altogether.
I'm looking forward to it. Many of those involved are young people who like partying and it is good that we will be putting our energy into helping society.
Mandela shows us that no-matter how bad things are there is always hope.
Helen Skilton, Intabazwe, Free State, South Africa
I am teacher from the UK and we went out on Saturday with a group of students. We are here until 25 July.
We are developing a cultural exchange programme with a township.
There are 14 students from Coventry here with us. This week they have spent time in Harrismith Secondary School in Intabazwe. Children from both schools have painted a mural which is beautiful.
This morning our students attended the assembly at the school here in Intabazwe.
They all sang happy birthday to Nelson Mandela and there was singing and dancing.
Brendan Van Deventer, Klerksdorp, South Africa
I'm spending my 67 minutes at a local public hospital helping with any duties needed.
It is the first time I have done volunteering work and I think I will volunteer again in the future.
I am a very proud South African and I'm very grateful Madiba is still with us on his 95th Birthday.
People have been celebrating his birthday today, but it is also a sad time because of his illness. A lot of us look up to him because of everything he did for the country.