UK economy: The view from the shop floor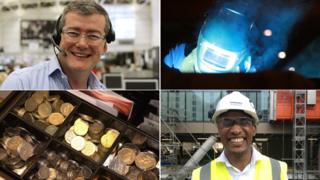 The UK economy grew by 0.6% in the three months to June of this year, marking an improvement on the 0.3% growth seen in the first quarter.
All the major sectors of the economy - services, manufacturing and construction - saw an increase in output.
However, the economy remains smaller than it was before the financial crisis.
BBC 5 live Money has been talking to businesses on the ground in the key sectors in order to gauge sentiment.
Services: Cautious optimism on spending
The UK's service sector accounts for around three-quarters of the economy, so has the muscle to drag the economy firmly into growth.
The June Markit/CIPS Services Purchasing Managers' Index (PMI) judged the sector to be in robust health, with new orders near a six-year high.
Leeds has one of the largest financial and legal service sectors in the country and reflects this trend, according to Mark Goldstone, from the Leeds, York and North Yorkshire Chamber of Commerce.
"Big projects like the opening of a new £60m arena in the city are proof of a rebound. Professional financial services and IT are doing well, particularly businesses which export."
Aggressive discounting and competition is also helping to drive the service sector revival.
Jacques de Bruin from Leeds-based no-frills gym company, Pure Gym, says the young firm is profiting from the trend.
"We looked at the market and saw there was a demand for something different - a no-contracts gym," he says. "Now we've got phenomenal growth and have big expansion plans."
But many, including the trade union body, the TUC, say the combination of flat wage growth and rising consumer spending could cause problems.
Liana Lockwood, a call centre worker at Leeds-based First Direct bank, admits she is "spending like there's no tomorrow".
"I'm even having to work overtime. I'm trying to keep up with the lifestyle I had before I was made redundant from a previous job."
First Direct's chief executive, Mark Mullen, is also cautious about the recovery.
"We should be less worried about the size of growth figures and more about whether it's sustainable," he says.
"People are dipping into their savings because the gap between wage inflation and overall inflation is pretty unfavourable."
He adds: "I don't think that our customers are spending more money. Any change that we're seeing in their behaviour is pretty modest."
Manufacturing: Exports on the rise
Evidence is also growing of a revival in UK manufacturing, though recent data from the ONS showed an unexpected drop in output in May.
But this ran counter to other indicators, including the Markit/CIPS PMI which showed growth in the sector in June, and a report from the British Chambers of Commerce which showed that export activity in July had reached levels not seen since the financial crisis.
This rise in exports is a trend that Dr Henry Shirman, managing director of Rotherham-based steel engineers, MTL Group, has embraced.
"Six years ago we exported around 1% of what we made; this year we're aiming for 30%," he says.
"It's very competitive but we're going to trade fares in America, the Middle East and elsewhere."
The firm, which has more than doubled its turnover in six years, has benefitted from adapting to the demands of the latest growth markets.
"From ice skates to armoured vehicles, we're now in a variety of sectors so we can spread the risk of our business."
Andy Tuscher from the manufacturers' organisation, the EEF, says the sector is also taking advantage of strength in oil and gas.
"Oil and gas is doing well - so manufacturers can make money from that."
The EEF also sees evidence of an increase in "onshoring" - the return of mainly higher-value work from markets such as China and India, supported by a weaker pound and intense competition among UK suppliers.
MTL Group steel press operator, Dave Cosgrove, has spent his working life in manufacturing and is feeling positive.
"I've seen boom and bust and have been made redundant several times. But at the moment, moneywise, it's not too bad," he says.
"A few years ago me and my wife stopped spending money but now we have holidays and can help our kids out. We can't put our lives on hold for ever."
Construction: 'We've had to do things better'
The construction sector has suffered a rocky recession and recovery, with a strong rebound erased in 2012 when tens of thousands of people left the industry.
And its poor performance dragged down growth in the first quarter of this year.
However, recent data has suggested a resurgence, underpinned by a recovery in house building,
"People have got their fingers crossed but in the last couple of months we've started to see some optimism coming through," says Rebecca Evans, the editor of Construction News.
"But in most parts of the industry it's still down on where we were a year ago."
The Institute of Directors has warned the government of the danger of creating a dependence on low-interest loans to support a housing-led construction recovery.
However, Paul Chandler of builder-developer, Skanska UK, says there are signs of a more broad-based revival.
"There are now a number of new commercial developments, especially in London. And there are huge opportunities in the energy sector.
"What we really need from the government are shovel-ready projects, like hospitals and schools, that can be started now," Mr Chandler adds.
Despite this year's improvements, the upheavals in the trade have been painful for many.
Colin Glen, an engineer at the Moorgate Exchange office development in the City of London, agrees that the recession hit the industry hard, but argues there were benefits.
"The tough times weren't all bad. It's meant we've had to work smarter, to do things better.
"That's why we can fill Moorgate Exchange with sloping columns weighing as much as a double-decker bus."
Wake Up to Money is broadcast on weekdays at 05:30 BST on BBC Radio 5 live. You can also hear the 5 live Money team on weekdays on 5 live Breakfast.
You can listen again via the BBC iPlayer or by downloading the Wake Up to Money podcast.