US closes two dozen embassies and consulates for day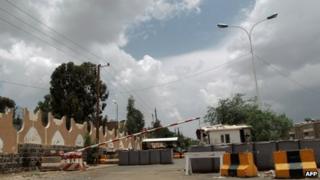 Twenty-one US embassies and consulates, mostly in the Middle East, are closed for the day in response to fears of an unspecified attack by militants.
A state department global travel alert, issued on Friday, is also in force until the end of August.
The department said the potential for an al-Qaeda inspired attack was particularly strong in the Middle East and North Africa.
President Obama's senior security team met late on Saturday to brief him.
National Security Adviser Susan Rice led the meeting, which included the secretaries of state for defence and homeland security and the heads of the FBI, CIA and National Security Agency, the White House said in a statement.
"The president has received frequent briefings over the last week on all aspects of the potential threat and our preparedness measures," the statement said.
US missions across a swathe of the Middle East, North Africa and parts of Asia are closed for Sunday - a working day in the Muslim world.
Embassies affected include Amman, Cairo, Riyadh, Kabul and Dhaka.
Announcing the decision on Thursday, the state department said embassies could be closed on some other days too.
The embassy closures and US global travel alert came after the US reportedly intercepted al-Qaeda messages.
It has been suggested that they were between senior figures talking about a plot against an embassy.
Plot
Referring to the Middle East, the state department said: "Current information suggests that al-Qaeda and affiliated organisations continue to plan terrorist attacks both in the region and beyond, and that they may focus efforts to conduct attacks in the period between now and the end of August."
The travel alert called for US citizens to be vigilant, warning of "the potential for terrorists to attack public transportation systems and other tourist infrastructure".
An unnamed US official has said the threat could be related to the Muslim holy month of Ramadan, which ends this week.
Several European countries, including the UK, have temporarily shut missions in Yemen.
The UK Foreign Office said its embassy in Sanaa would remain closed until Tuesday.
On its website, the Foreign Office is advising against all travel to Yemen and is strongly urging British nationals to leave.
It says there is "a high threat from terrorism throughout Yemen" and "a very high threat of kidnap from armed tribes, criminals and terrorists".
A Foreign Office spokesman would not say if the UK embassy closure was due to a specific threat, but a number of British embassies in the Middle East have been warned about increased risks.
"Our travel advice advises particular vigilance during Ramadan, when tensions could be heightened. We are particularly concerned about the security situation in the final days of Ramadan and into Eid."
The US diplomatic missions closed on Sunday are in Abu Dhabi, United Arab Emirates; Algiers, Algeria; Amman, Jordan; Baghdad, Iraq; Cairo, Egypt; Dhahran, Saudi Arabia; Djibouti, Djibouti; Dhaka, Bangladesh; Doha, Qatar; Dubai, United Arab Emirates; Irbil, Iraq; Jeddah, Saudi Arabia; Kabul, Afghanistan; Khartoum, Sudan; Kuwait City, Kuwait; Manama, Bahrain; Muscat, Oman; Nouakchott, Mauritania; Riyadh, Saudi Arabia; Sanaa, Yemen and Tripoli, Libya.