Study: Record number of US convicts cleared in 2013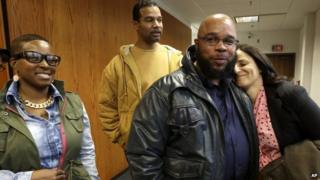 The number of US convicts cleared of their alleged crimes reached a record high in 2013, a new study reports.
The National Registry of Exonerations said 87 people were cleared last year. It has recorded 1,281 exonerations in the US since 1989.
The previous annual high came in 2009, with 83, but the registry continues to add past data.
The report put the rise down to a growing responsiveness among authorities to claims of innocence.
The state of Texas led the US with 13 exonerated cases, the report said.
Illinois and New York also had a high number of people exonerated of crimes for which they had spent time in prison.
Guilty pleas
The 2013 report from the National Registry of Exonerations, a project of the University of Michigan and Northwestern University law schools, noted those who were cleared last year were convicted on average more than 12 years ago.
A senior researcher at the registry, Maurice Possley, told the BBC the large number of cases in which DNA helped win exonerations has lent credibility to convicts' claims of innocence in the eyes of the courts and the prosecutors.
"DNA has given us this window into the criminal justice system and what can go wrong," he said. Now, claims of innocence are less likely to be dismissed "out of hand".
"It's a more level playing field," he said.
The report found 17% of those cleared had pleaded guilty to the alleged crimes, likely under pressure from prosecutors who threatened to pursue more aggressive charges with longer sentences if defendants went to trial.
However, the report noted those who pleaded guilty despite their innocence were far less likely to receive assistance in contesting their cases later on.
Of the cases reported by the project, 47% were for homicide, including one exoneration of a defendant who had been sentenced to death.
And almost a third of the people cleared were convicted in cases in which no crime in fact had been committed, the researchers found.
A little more than a third of the exonerations happened with the initiative or co-operation of law enforcement.
"Police and prosecutors appear to be taking increasingly active roles in reinvestigating possible false convictions, and to be more responsive to claims of innocence from convicted defendants," the authors wrote.
The exonerated convicts were pardoned, had charges dismissed by the courts, were acquitted on retrial, or were issued "certificates of innocence" or the like by a court.
Among the more than eighty cases of exoneration in 2013:
In 2012, Adam Tatum was wrongfully convicted of assault on a police officer and of possession of marijuana. He pleaded guilty but he was exonerated after CCTV footage showed he was beaten by police officers.
David Ranta was convicted in 1991 of murdering an esteemed rabbi in Brooklyn, New York. He was exonerated 22 years later after a new investigation found detectives pressured and bribed witnesses to testify against him.
Eight years after her conviction for killing her four-year-old son Jacquari, who was found asphyxiated by an elastic band in 2005, Nicole Harris was exonerated after evidence was presented that police coerced her into confessing and that the boy's brother saw him wrap the band around his neck while he was playing Spiderman. The brother, then six, had been ruled incompetent to testify by a judge.
Gerard Richardson served 19 years in a New Jersey prison for the murder of teenager Monica Reyes. He was convicted largely on bite-mark evidence taken from the victim's back, but new testing showed the bite mark contained another man's DNA.