Australia plane crash: Skydivers killed in Queensland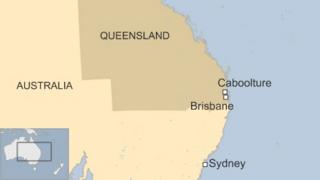 Five people on a skydiving trip have been killed after their light plane crashed at an airfield in Queensland, eastern Australia.
The Cessna 206 hit the ground and burst into flames shortly after take-off on Saturday at Caboolture Airport, north of Brisbane.
The pilot, two skydiving instructors and two skydiving customers were killed, police said.
Family members witnessed the crash from the ground, they said.
The flight was operated by Adrenalin Skydivers Bribie, also known as Skydive Bribie Island, a spokesman told the Sydney Morning Herald, which carried pictures of the crash site.
"We received a call from the airfield and sent three crews to a light plane that had crashed," a Queensland Fire and Rescue Service official told Agence France-Presse.
"The fire was extinguished in 10 minutes."
Caboolture is about 50km (31 miles) north of Brisbane.
The airport was closed after the crash.
The Sydney Morning Herald says the airport has only grass strips and operates gliders, helicopters and light aircraft.
It quoted Grahame Hill, director of aircraft operations for the Australian Parachute Federation, as saying the skydiving community was devastated by the crash.
"I've spoken to some people up there and they're just gutted; it's terrible," Mr Hill said.