Pistorius trial: Tough start about to get tougher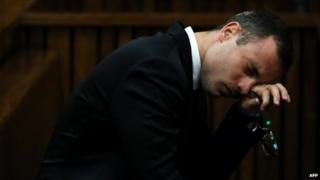 Oscar Pistorius may have grabbed the headlines today, but as far as the trial is concerned, I suspect some of the biggest developments may have come earlier on Monday morning before the athlete even began giving evidence.
Two things stuck out for me.
Firstly, we heard the defence team's pathologist Jan Botha arguing that although he agreed with the state's experts regarding the probable order of injuries sustained by Reeva Steenkamp, he felt it was quite likely that she would not have had a chance to scream if the bullets had been fired in reasonably quick succession.
Several experts had expected the defence to argue that the first bullet had hit her in the head, making any screams impossible.
Regardless of that, Prof Botha's interpretation will, I suspect, be useful for the defence as they seek to shore up the athlete's version of events.
Incidentally, the issue of when Reeva Steenkamp ate her last meal does not strike me as fundamental to the case - although I acknowledge the possibility that it could undermine Pistorius' account of the evening - so I'll skip it for now, along with the gruesome dispute over the implications of the contents of her stomach.
Dogged performer
The second striking thing today was Gerrie Nel. Until now the prosecutor has been a peripheral figure, as he's led his witnesses through their evidence.
But cross-examination, as Barry Roux showed, is a much more theatrical business and Mr Nel revealed himself as - and those who've followed his career already knew this - an aggressive, dogged, and very effective performer.
He repeatedly got under the skin of a professional witness who has appeared on the stand many hundreds of times.
One couldn't watch the two of them bickering and sniping without wondering how Oscar Pistorius will react on, say, day three of his cross-examination, when his patience and temperament are being remorselessly challenged.
As for Mr Pistorius himself - well he couldn't have had a tougher start, having spent the hours before taking the stand repeatedly retching and sobbing as more evidence was presented about Reeva Steenkamp's injuries.
He must be aware how crucial his performance will be in this trial. He is, after all, the only person who knows the truth. By and large, he held himself together.
Mr Pistorius began with an emotional apology to the Steenkamp family - which her mother, June, appeared to studiously avoid giving any reaction to in court - and then moved on to a vivid description of his own fragile mental state.
Those who've already made up their minds about his actions may find the performance either false or irrelevant, but to me he certainly seemed believable in his remorse.
The same goes for his descriptions of his early life, his absent father, his parent's divorce, his mother's early death, his growing interest in athletics, his disability, and his concern about crime and his own vulnerabilities.
Very little of this appeared to be new information, and some will argue that his descriptions of his charitable activities, his faith and his friendly dogs were too obviously calculated to make much of an impression on the court.
I'm not sure that's the case. We are all complicated creatures and Mr Pistorius has, at the very least, given Judge Masipa a glimpse of a very different side to his character today. That could matter a lot when she comes to consider her verdict.
On Tuesday, I'm told by reliable sources that Mr Pistorius will move from issues of character to his version of what happened in the bathroom that night.
It's possible that the cross-examination could begin later the same day. If Gerrie Nel's performance today - and in previous trials - is anything to go by, he'll be grilling the athlete for several days.