Pistorius trial: Key questions for the defence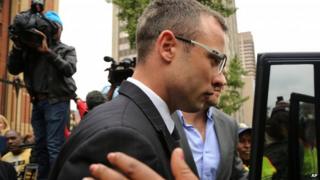 Both defence lawyer Barry Roux and prosecutor Gerrie Nel have made a habit of setting "homework" for the witnesses they are cross-examining at the murder trail of South African athlete Oscar Pistorius.
Judge Thokozile Masipa did the same for the lawyers on Thursday, urging them to make good use of the upcoming fortnight break for the Easter holidays.
In that spirit, here are a few questions that have been niggling me in recent days.
Oscar Pistorius testified that - seconds before killing Reeva Steenkamp - he did not fire a warning shot into the corner shower in his bathroom because he was concerned about a "ricochet". Does that show sufficient presence of mind to raise questions about his "unthinking", "panicking" and "instinctive" shots at the toilet door immediately afterwards?
Does it matter that Barry Roux introduced the notion that Mr Pistorius fired his four shots in two quick "double-tap" bursts, but subsequently the athlete said he had fired all four "in quick succession"? Are we splitting hairs or does this go to the heart of the defence's case?
Four shots... I am told the prosecution finds the number of bullets fired suspicious - that someone reacting in pure panic would normally shoot many more, and with much less directional control. Does the number, and direction, of shots imply a certain degree of deliberation?
How damaging are Mr Pistorius' various - and often rather clumsy - attempts to avoid accepting "blame" for both killing Ms Steenkamp and firing the pistol in the restaurant? Would he have been wiser not to contest the three separate gun-related charges - over ammunition possession, the alleged shot through a car sunroof, and the restaurant incident - and perhaps to plead culpable homicide for Ms Steenkamp's death and hope for a lenient sentence from the judge?
Has the prosecution produced any solid evidence to support its claim that Mr Pistorius intended to kill Ms Steenkamp, or, as I am inclined to think from some background conversations in the courthouse, are they relatively indifferent about whom the athlete believed he was shooting at, and are primarily interested in proving he shot deliberately and with intent to kill?
Mr Pistorius' family has clear respect for the defence's last witness Roger Dixon. How much of his expert testimony was undermined by Gerrie Nel's ruthless cross-examination?
Tweet your thoughts and suggestions to @BBCAndrewH. I will be taking a week off and then focusing on South Africa's general election before returning to the hard benches of Courtroom GD on 5 May.