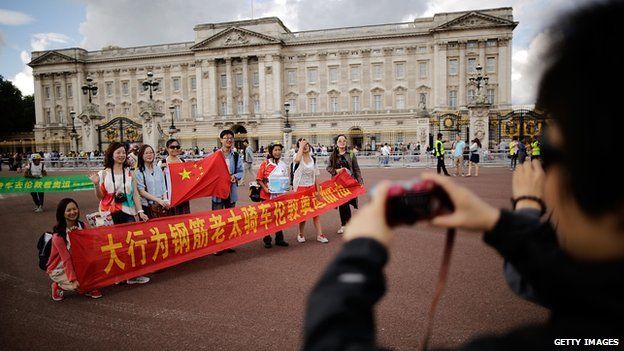 "The famous British rain!" enthused our guide Jason Liu, smiling heavenward as though inviting his group of 18 Chinese tourists to be grateful for the benediction. "And the big advantage is no camera glare for your photos." The group obediently took out their cameras.
Only 20 years ago Chinese simply didn't go abroad unless it was for work or study but now thanks to rising incomes and a relaxation of government restrictions, they are the biggest force in world tourism. Both in numbers and spending.
Under Big Ben, rain turned to hail and the statue of Churchill hunched inside his black stone raincoat. We'd heard about the British weather on the journey in from our hotel on London's outskirts. Slow traffic also allowed time for a thorough briefing on the capital's inability to widen its roads due to public resistance, its 50-year battle to beat pollution and emphatic warnings against its armies of pickpockets.
"Be careful of anyone who approaches the group," instructed Jason. "A friend of mine called me only last night to tell me one of his group had £2,000 stolen outside Downing Street. Broad daylight and he didn't even see the thief!"
As a seasoned traveller, 40-year-old Scarley is used to keeping a close eye on her belongings in countries where policing is laxer than at home. "I've been to Thailand five times, to Russia, Japan, Australia and I've done a tour in Europe," she explained. "I wanted to come to Britain this time because of its long history and its impact on the world."
But her mother-in-law used the coach journey to catch up on her sleep and so missed out on Jason's romp through British history. No Romans, no sword in the stone or royal beheadings. She woke up only as we passed Hyde Park Corner and rejoined the conversation where she'd left off, telling me that of all the countries she'd visited she particularly enjoyed Thailand because of the performances they put on for tourists.
"I'm here for the clean air and old buildings," explained retired mine manager Wang Chunjie. But of nearly 100 million outbound tourists in 2013, only 196,000 came to the UK. So Mr Wang had advice for the UK's tourism authorities.
"Many of my friends would have come on this tour if it was easier to get a British visa."
There's the rub. A Schengen visa covers 26 European countries and allows Chinese visitors to make "the grand tour" of several European destinations. The UK insists on a separate visa.
"For the British visa, I had to go all the way to Beijing to get my fingerprints done," explained Mr Wang. "This kind of inconvenience puts us off. Besides, Britain is only one country and a very small one at that. Most people will choose to go to Europe."
Hardly music to the ears of Christopher Rodrigues, chairman of Visit Britain, which promotes tourism into the UK. Oddly, when I found him in Parliament Square, the rain had stopped and the sun was shining. I didn't need to remind him that a Chinese tourist spends four times as much as the average visitor. He insisted the British government had already simplified visa procedures, to make it easier for them to come.
"We are not in Schengen and I don't think for security reasons we will be for the foreseeable future. What is right is that when you apply for a visa, you get it quickly. There have been significant improvements but we can still do more and we need to if we are expecting as the prime minister has said, half a million visitors by the end of this decade."
Across the Channel, France passed the half million mark long ago. It already has nearly 10 times as many Chinese tourists as the UK, and the pavement outside the famous Galeries Lafayette department store in Paris teems with tour groups clutching shopping bags.
"I'm here to buy handbags," said Lina, a well-dressed young professional. "Luxury goods are so expensive back home. I wouldn't dream of wearing a fake bag. We're wealthy enough to buy the real thing. And everyone can tell the difference. It's nice to have beautiful things."
Back in London my group also have big shopping plans. But before that, it's lunchtime. I still haven't met the Chinese tourist who is prepared to go a whole day on a European diet. "Don't make your expectations too high," warns Jason as he leads his bedraggled band down into the basement of a restaurant in Chinatown.
I bid my farewells and wished them a safe trip to Cambridge, Oxford, Stratford, Edinburgh, Belfast…. and finally home to China. Their parting chorus to me: "Make the visas easier and we'll be back!"