Mitch McConnell sees off Tea Party challenge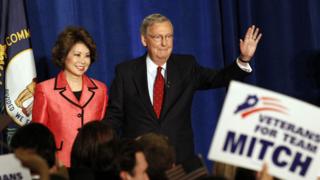 Senate Republican leader Mitch McConnell defeated his Tea Party challenger with some ease in the Republican primary contest in Kentucky.
The five-term senator struck a blow for the party establishment when he defeated Matt Bevin on Tuesday night.
Mr McConnell will face Democrat Alison Lundergan Grimes in November's mid-term election battle for his Senate seat.
On the busiest primary night of the year to date, six states held contests to decide party nominations.
The Republicans need to pick up just six seats to win control of the Senate in November.
In Georgia, Michelle Nunn won the Democratic vote for the Senate race but it wasn't clear who she would face, with a run-off likely among the Republicans.
But all eyes were on Kentucky, where Mr McConnell led Mr Bevin by 60% to 36% with most of the votes in, according to Associated Press.
"If the American people give Republicans a majority in the Senate, you'll be proud of the United States Senate once again," McConnell, 72, said in his victory speech.
Democrats nominated businessman Tom Wolf to oppose Republican Governor Tom Corbett's bid for a second term in Pennsylvania.
Three other states were holding primaries on Tuesday - Oregon, Arkansas and Idaho.
Earlier this month, a North Carolina Senate candidate backed by the Republican Party establishment, Thom Tillis, won the party's nomination to face Democratic Senator Kay Hagan in the November election.