Portugal draw 'most viewed' football game in US history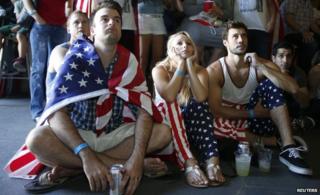 US fans were left downcast by a last-minute Portugal equaliser but Sunday's 2-2 draw was probably the most viewed football match in US history.
An average of 24.7 million watched the World Cup thriller on ESPN and Univision, said data firm Neilsen.
That matched figures for the 2010 final, but ESPN said an additional 490,000 people streamed coverage.
The match had more viewers than homegrown events like the NBA finals in basketball or baseball World Series.
Streaming numbers for 2010 weren't immediately available, but it's very unlikely they were as high as 2014 because the technology was not as widely used.
The 2010 World Cup final between Spain and Netherlands was the previous record, but interest in the game has been building ever since the US hosted the tournament in 1994.
A record 17.9 million people tuned in to watch the US lift the women's World Cup in 1999.
This time, with live broadcasts in peak times in the US, large screens have been erected in parks across the country, with a record 20,000 fans gathering at Balbo Avenue park in Chicago.
In recent American sports finals, the 2013 World Series was watched by an average 14.9 million viewers, while the NBA finals earlier this month only averaged 15.5 million viewers, although both are played over a number of games.
But American football is in a different league - 111.5 million watched the Seattle Seahawks triumph at the Super Bowl in February.
The USA's next game is against Germany on Thursday, when a draw will guarantee their progress to the last 16.